Today we got the chance to sit down with Samsung's team and have a more thorough look at its recently announced products.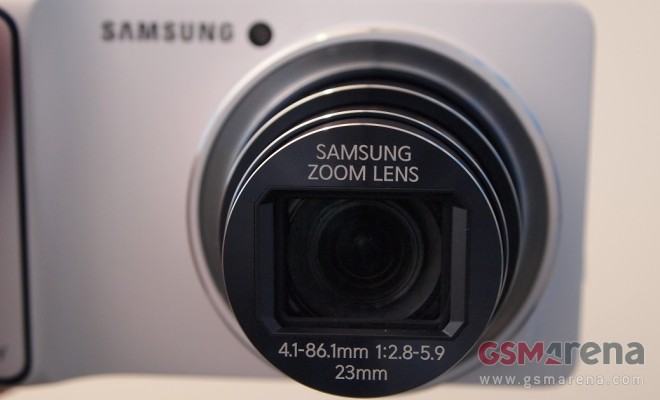 First off, it was the Samsung Galaxy Camera. We tried it first-hand without the messy wires and we're quite happy with how it felt. It has 21x optical zoom and at its widest end, the lens has an ultra wide angle of 23mm in 35mm terms and there's a back-lit sensor behind it, which is impressive enough combo, even without counting the Android smart functionality.
There is a SIM slot that you can use for using a 3G data connection on the go. The standard 2.5 mm audio jack not only allows audio output, but you can also use it with a headset with a mic and even do a Skype chat on it (sorry no video chats).
According to CIPA guidelines, the Galaxy Camera is rated at 280 shots, while according to Samsung's own method of testing, the Galaxy camera should last up to 6 hours of continuous usage – and that includes everything – browsing web sites, watching movies, taking photos and whatnot.



The SIM and microSD card slots alongside the battery
The camcorder has a neat feature that allows you to pause the capturing during recording. You can also snap stills during video recording without interrupting the footage, but only in 5MP resolution.



The various quick-shooting modes
As for software support, Instagram comes preinstalled. Most other Android camera apps should work well too, but they don't support the optical zoom functionality and the advanced options available in the stock camera interface. Samsung is working with developers to optimize their apps for the Galaxy camera. All optimized camera apps will be easy to access from Samsung's own app repository.





The 16MP camera lens is capable of up to 21x optical zoom
Samsung has a deal with Dropbox, so every Galaxy Camera user gets 50GB of free cloud storage.
Some interesting features of the stock camera interface include the ability to stream what your camera "sees" in standby to your friends via the ChatOn service. Another neat feature allows you to control remotely the Galaxy Camera with your smartphone or tablet – you can operate the optical zoom, snap shots or download images. You can have the Galaxy camera share your photos automatically with your friends or on your favorite social media services.





Android 4.1 on the black Samsung Galaxy Camera
The special night mode shoots three shots in rapid succession and stitches them together to create a single, noise-free low light image.
The Samsung Galaxy Camera will be released in October but pricing has still not been confirmed. Samsung is having talks with major wireless carriers so we might even see the camera in mobile stores.