Apple's fans have often been the object of mockery for their blind following of the brand's latest (arguably) overpriced and underspecced devices. Samsung's supporters have typically been considered slightly more level-headed with the exception of the occasional determined fanboy.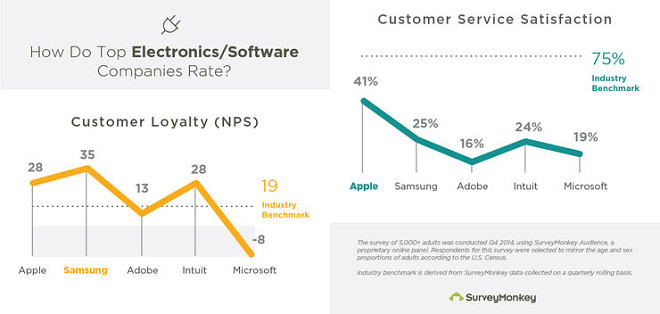 A recent survey however claims otherwise and puts the Korean company ahead of it's Cupertino arch-rival in terms of brand loyalty. The survey was carried out in Q4 2014 among more than 5000 participants, which mirror the current population proportions of the US.
The folks over at SurveyMonkey have devised their own benchmark which puts the magical number 19 as the industry standard for customer loyalty. Samsung is near double that with a 35 score, while Apple only manages 28, still above the benchmark. You wouldn't want to be the exec at Microsoft who is in charge in creating brand loyalty, as the company scores a miserable -8. Yes, that's a minus.
On the other hand, Apple claims the top in customer service satisfaction with 41% of participants approving the experience they get when faced with a problem. Samsung hasn't managed to polish its customer service enough to meet users' standards, and gets three quarters of negative votes. Microsoft is behind once more with less that a fifth of upvotes on the matter and a good half of satisfied customers, compared to Apple's.