Eldar Murtazin posted a tweet with some juicy info about two new Samsung smartphones.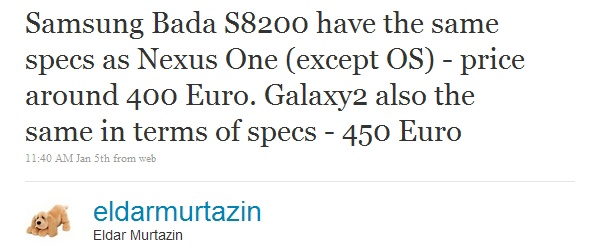 The first is Bada S8200, which name is more than enough to conclude it will be the first smartphone with the new Bada OS.

The second part concerns the Android family. It seems Galaxy 2 is in the works and may be it will be announced on the MWC in February along with the S8200.
Both handsets will sport similar specs like the Google Nexus One – 1 GHz processor, 5 megapixel camera, all-kind of connectivity and a microSD card slot.
Eldar Murtazin claims the Bada S8200 will be priced at 400 euro, while the Galaxy 2 will be 50 euro heftier.