The internet of things, or IoT, as it is commonly referred, is well on its way to creating yet another tech revolution. The concept is definitely not new, but it was not until recently that big names, such as Google and ARM started working hard towards creating smart connected appliances for a seamlessly interconnected experience all throughout the home of the future.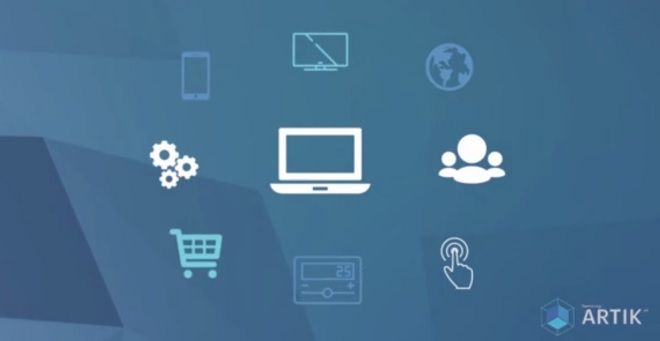 One such initiative is the Thread Group, in which Samsung takes part as well. The Korean tech giant is taking the concept quite seriously, which is evident by introduction of a brand new line of integrated chips, intended to power future devices, connected to the global network.
The chips are named Artik and are meant to power Samsung's new platform, bearing the same name. Young Sohn, president and chief strategy officer, Samsung Electronics, had this to say about the project:
We are providing the industry's most advanced, open and secure platform for developing IoT products. By leveraging Samsung's high-volume manufacturing, advanced silicon process and packaging technologies, and extensive ecosystem, ARTIK allows developers to rapidly turn great ideas into market leading IoT products and applications.
The Artik line consists of three models. Artik 1 is the smallest of the bunch. It is equipped with Bluetooth LE, an accelerometer, a 9-axis motion sensor, a gyroscope and a magnetometer. All of this is fitted in a circuit measuring just 12 mm by 12 mm and should cost less than $10. It is ideal for most small appliances to join the IoT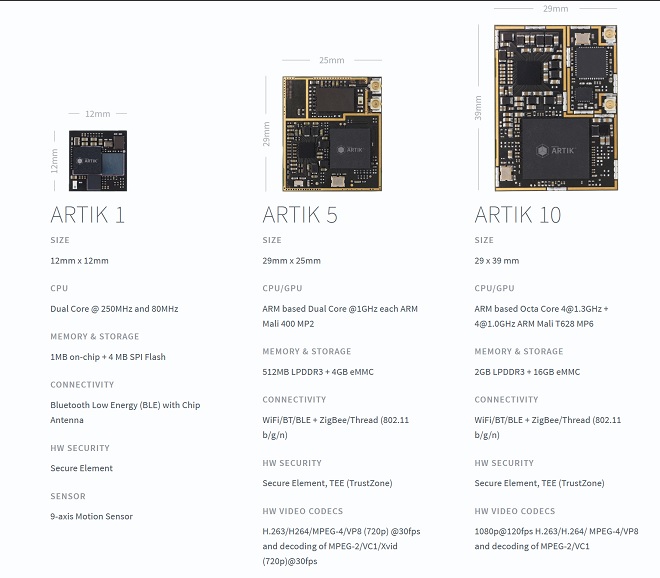 The Artik 5 is slightly bigger at 25mm x 25mm, but it does add Wi-Fi, ZigBee wireless, and onboard 720p video decoding to the mix. It is targeted at things like smartwatches and drones, which don't really require an enormous amount of processing power, but can put most sensor to good use. The biggest of the bunch is the Artik 10. Its features resemble the internals of a modern smartphone pretty closely. These include an eight core processor, 2GB of RAM and 16GB of onboard memory. And the price tag is around $100.
The new Artik platform is a result of the collaboration between Samsung and the SmartThings company, that the Korean giant acquired last August. The existing SmartThings IoT open platform is definitely a good jumping point for Samsung. It already has a catalog of about 19 000 supported devices, made by various companies, as well as more than 30 000 apps.
Hopefully, joint efforts on the new Internet of Things initiative might help unify standards and technologies as early as possible, so consumers can easily benefit from the new tech and skip the difficult and limiting choice of proprietary tech.