Today Samsung announced a couple of new digital cameras that will be exhibited at CES 2011 expo, which will start early next year. The more interesting of the couple is the Samsung NX11 mirror-less camera with an APS-C sensor, which comes with the intriguingly sounding new i-Function. The other announcement is the WB700 compact with a zoom lens covering the ample 24-576mm range in 35mm equivalent, which even boasts RAW capabilities.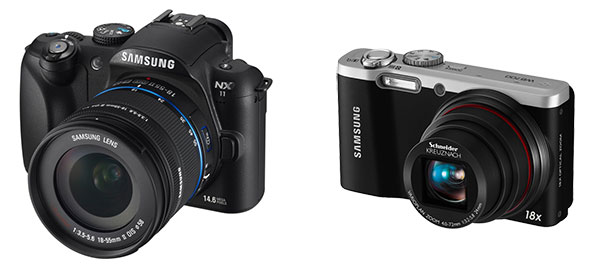 The i-Function of the NX11 EVIL camera allows you to change setting like shutter speed, aperture, exposure compensation, with balance and ISO straight from the lens. Of course you would need a compatible lens for this feature to work. The NX11 also upgrades the NX10 with a new and improved grip, but the rest of it (including the 3" AMOLED screen) seems identical to its predecessor.
The Samsung WB700 camera sports a Schneider KREUZNACH lens that extends from the wide-angle 24mm all the way to 576mm in 35mm equivalent for a total of 24x zoom ratio. The CCD sensor of the camera is capable of capturing 16 megapixel images and HD video. There is also another novelty feature on board called Zoom Noise Reduction. It eliminates the irritating sound of the zooming mechanism, when capturing video.