We have to admit that when a tipster contacted us and told us about a Galaxy S III-based point-and-shoot camera, we were a little skeptical. Doubt has been replaced by excitement, however, as Samsung showed just that at its IFA event – meet the Android Jelly Bean-powered Samsung Galaxy Camera.
Our tipster hit the nail on the head on most specs – including the 4.8″ screen of HD resolution. However it turned out that the Galaxy Camera is rocking a Super Clear LCD, instead of a Super AMOLED screen.
We'll get back to the Android side of the story in a moment, let's first go over the juicy camera details. The Samsung Galaxy Camera has a 1/2.3″ 16MP BSI CMOS sensor, a wide-angle lens (23mm in 35mm equivalent) and 21x optical zoom. There's also a pop-up Xenon flash.
It shoots 1080p videos at 30fps, but you can also do D1 (720×480) at 120fps. There's HDMI 1.4 available to output photos and videos to a TV. You get 8GB of built-in storage, which you can expand via a microSD card slot.
There are several levels of automation when it comes to taking photos – Auto, Casual, Smart Pro and Expert. As you would expect, there are also extensive photo editing features on-device and the camera includes Samsung's Share Shot feature we saw on the S III (it let's you easily share photos with other Galaxy Cameras or smartphones).
There's also "Best Group Pose" like on the Galaxy Note II, which works in a similar way to the Scalado solution.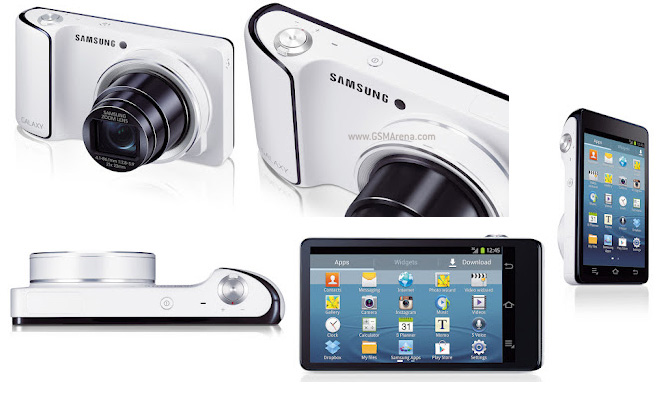 The camera will automatically back up the photos you've taken to the cloud – which will be done over the extensive data connectivity. There's Wi-Fi a/b/g/n and penta-band HSPA available with optional HSPA+, though you can't make voice calls with either version (it's a camera, remember?). Other connectivity features include Bluetooth 4.0, GPS and GLONASS.
Going back to Android, it's 4.1 Jelly Bean with TouchWiz customizations and you get all sorts of apps that the Galaxy S III got, including S Voice, S Planner, a browser and so on. The Samsung Galaxy Camera is powered by a quad-core 1.4GHz processor.
You can, of course, use third party apps and services – like Instagram for those ever popular image effects and Dropbox for its own instant photo upload. You get those at the Google Play Store, which the Samsung Galaxy Camera has full access to.
The physical measurements of the camera are 128.7 x 70.8 x 19.1 mm and it weighs 305g. The battery has only 1,650mAh capacity.
The Galaxy Camera will be available in Black and White, but we're waiting on more details like price and launch dates.