Samsung have just announced 5 new compact digital cameras. The new offerings include something for everyone with the two high-end superzooms Samsung HZ35W and Samsung HZ30W, the mid-range Samsung TL110 and Samsung TL105 and the entry-level Samsung SL630.


Samsung HZ35W and Samsung HZ30W
The 12 megapixel Samsung HZ30W and HZ35W feature really cool sounding 24-360mm (in 35mm equivalent) Schneider KREUZNACH lenses with 15x optical zoom. The two cameras are able to record 720p video @ 30fps and sport ample 3″ displays (AMOLED for the HZ35W and LCD for its HZ30W twin). The HZ35W is also equipped with a built-in GPS to enable automatic geo-tagging.
The best part is that the Samsung HZ30W and HZ35W have maintained an extremely slim 28mm profile, which is quite an achievement for the class. Unfortunately it is yet unclear how much they will cost.
Samsung TL110 and Samsung TL105 are too capable of recording 720p video @ 30fps but sport more modest 2.7″ LCD displays. The slightly more functional of this compact duo, Samsung TL110, sports a 27-135mm lens and a 14 MP sensor, while its little brother comes with the more modest zoom range of 27.5-110mm and a 12MP sensor.
Again there is no information about the pricing of the target availability though.


Samsung TL110 and Samsung TL105
Finally, we come to the Samsung SL630, which has little to impress but you can't frown at the cheap price tag. Valued at 130 GBP the 12MP camera only manages VGA videos at 30 fps and packs a 28-140mm lens. The display is identical to the ones of the Samsung TL110 and TL105 – 2.7″ LCD.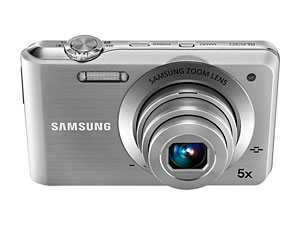 Samsung SL630