The Galaxy Note 10.1 has gone through yet another revision. This time, Samsung has added a slot on the side to hold the stylus – or the S Pen as they call it – when it is not being used.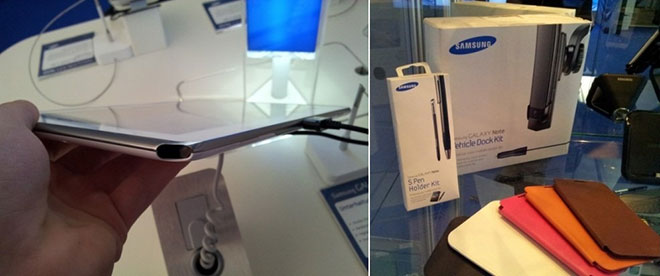 Samsung had to slim down the stylus so that it could take up less place on the side but will be offering an S Pen Holder Kit, which has a much thicker form factor that should be a lot easier to use.
The last time we heard about a revision on the Galaxy Note 10.1, Samsung had swapped the processor in favor of their new quad-core Exynos. While it's nice that Samsung is improving the tablet before launch, I personally find it absurd that even after officially being showcased at the MWC this year, it is still going through major hardware changes. What Samsung showed us back then was supposed to be a finished product but now they are still adding stuff to it, which means it was clearly just work in progress back then. That, or they themselves don't know how this product should be and keep adding stuff as they think of it, delaying the launch every time.
The latest addition is especially egregious. A stylus slot? Really? They forgot to add a slot for the stylus the first time they designed it? How on earth could they forget about something like that? And if they didn't, where was one supposed to put it before they decided to make the slot?
Then again, that's just how Samsung rolls. Last year they completely redesigned the Galaxy Tab 10.1 after the iPad 2 came out. I wouldn't be surprised if the Galaxy Note 10.1 goes through a dozen other changes until it no longer resembles the product they showcased at the MWC.
Source Thanks, piyush91!