RIM seems to be headed into more and more trouble with the upcoming launch of their first tablet – the Blackberry Playbook. According to a leaked internal document, the device will ship without native support for e-mail (contacts and PIM apps, too). Say what?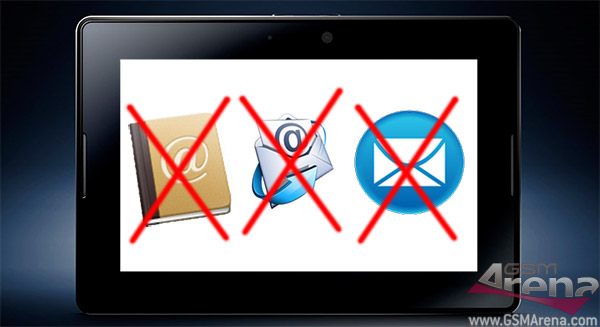 To get your email on the upcoming BlackBerry tablet, you will either need to use Blackberry Bridge, which links the tablet to a Blackberry phone, or would have to use the tablet's web browser. A future software update should bring the much desired functionality to the users. Now that's a bummer.
This leaked memo all but confirms the fact that RIM is rushing their product to the market without adequate preparation. And since the competition in the faces of Apple, Samsung, LG, etc. is already far ahead in terms of products' development, the potential result of RIM's move is not too difficult to predict. Tough days are looming ahead for the company's tablet business.
Here's the quote from the leaked document:
Q: Will apps such as e-mail, contacts, calendar etc. be available natively on BlackBerry PlayBook?

The BlackBerry PlayBook can be used in conjunction with a BlackBerry smartphone or it can be used on its own (i.e. standalone). The BlackBerry Bridge feature creates a secure Bluetooth link between a BlackBerry PlayBook tablet and BlackBerry smartphone allowing BlackBerry smartphone users to view and interact with the email, BBM and PIM apps on their BlackBerry smartphone using the larger BlackBerry PlayBook screen.

In addition, users can access their e-mail via the BlackBerry PlayBook's web browser without any need for a BlackBerry smartphone.

In a future software update for the BlackBerry PlayBook, we will also provide native e-mail, calendar, and contact apps for those customers who prefer to have these apps directly on the tablet.