The new Foursquare app, which was detailed back in July, has finally gone live in both the iTunes App Store for iOS as well as the Google Play Store for Android.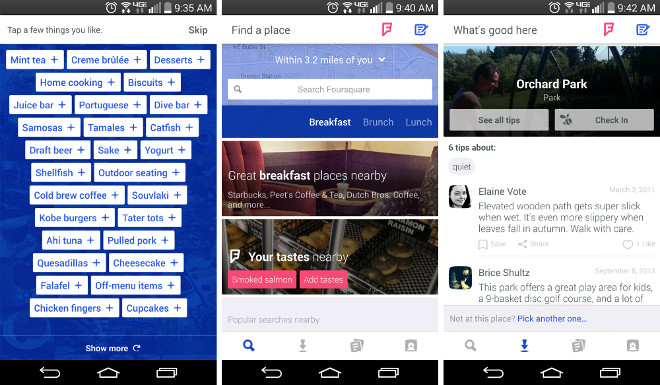 The purpose of the new app is mainly to let you search for and discover great places, no matter where you may be in the world. The check-in feature that basically made the old Foursquare famous will only be available via Swarm, which is another app by the same company.
Foursquare now lets you find things and places based on your tastes, the places you like, and the people you trust most. So you apparently won't be going through random reviews of places by strangers that you don't have anything in common with.
When you run the app, it will ask you to choose some stuff you like. That can be specific or more general. Then you can search for restaurants, coffee places, nightlife, shops, and more – and get results tailored to you. When you are at a certain place the app will give you insider tips. Over time, Foursquare will get better and better at knowing what you like, and thus it should lead you to places you'll love. At least that's the app's promise – we'll have to see if it delivers.