Apple has an event set for tomorrow, October 22, and the wall Street Journal is confirming that the stars of the show will be two new iPads – the new mini and a new version of the 9.7″ model. There might be Mac-related announcements too.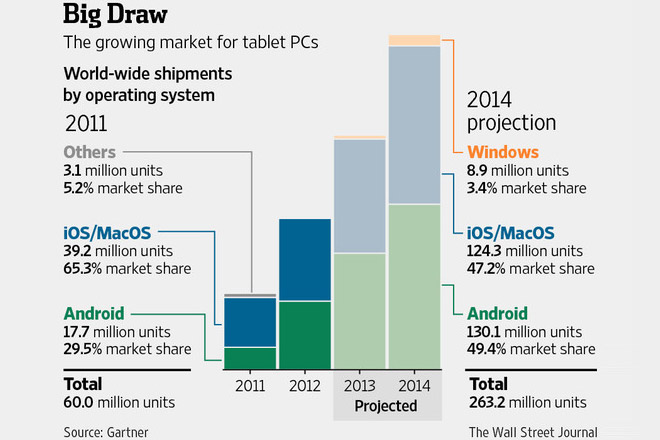 While not official, the news that the iPad mini 2 will be at the event tomorrow is slightly surprising as there were quite a few reports on the low yields of the new 7.9″ Retina display, meaning the tablet won't make it in time for the holidays or at least won't be widely available.
If Apple and its display suppliers can meet the demand, analysts are expecting the iPad mini 2 to outsell the big iPad 2:1.
The specs for the new mini include an Apple A7 chipset and an M7 motion coprocessor and color options to match the iPhone 5s, but no fingerprint scanner. The iPad 5 will have a fingerprint scanner according to the latest rumors and it will adopt a mini-like design with thinner bezels. It will also be thinner and lighter thanks to new screen technology.
Apple needs new iPads – in Q3 sales were lower than in Q3 last year and iPads are the second biggest source of revenue for the company, after the iPhone. However, analysts are forecasting that even with the new iPads, Apple's tablet market share will drop below 50% at the end of this year, down from 65% last year due to pressure from phablets and low-cost Android tablets.
Microsoft will try to steal Apple's thunder by releasing the new Surface 2 and Pro 2 tablets tomorrow. Tomorrow will also see Nokia's event, which will possibly throw another tablet (Lumia 2520) into the fray.