iBooks for iOS just got a major update in time for the holiday season. Version 1.5 brings a welcome new feature set to the eReader app, including new view modes, new fonts and notable improvements on existing features too.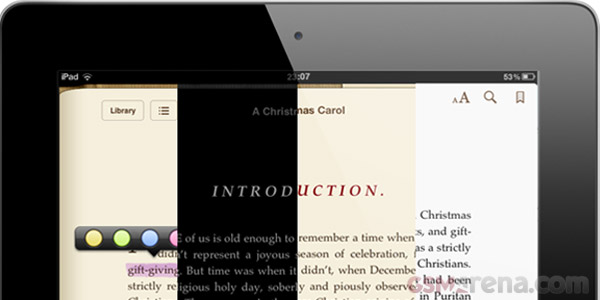 We gave the update a quick test drive with the help of Charles Dickens' – A Christmas Carol (it is nearly Christmas after all) and the features most certainly do wonders for iBooks. With the likes of Amazon's Kindle app and other eReading options available for the iPad and iPhone, iBooks itself hasn't really been able to offer quite the same flexibility as its competitors until now and suffered because of this.
With Christmas looming, the update has undoubtedly arrived now to try and bolster popularity in the app and by association, the iBookstore. Here's hows Apple detail the update:
'What's New in Version 1.5
iBooks 1.5 adds the following new features as well as some stability and performance improvements:
• Nighttime reading theme makes reading books in the dark easier on the eyes.
• Full-screen layout lets you focus on the words without distraction.
• iBooks now features an improved selection of fonts, including Athelas, Charter, Iowan, and Seravek.
• Beautiful new classic covers for public domain books.
• A redesigned annotation palette makes it easier to choose a color for your highlighted text.'
It's a good application, with some welcome additions, but it seems that those into eBooks have already invested in alternate solutions. This might be a case of too little too late for iBooks, but on the flip side, we're unlikely to encounter any issues with Apple's bank balance because of it.
Are you an avid eBook reader? Does this latest update make iBooks a more viable alternative to your current eReading habits? Let us know in the comments down below and follow this link to get the latest version of iBooks via iTunes.