If you like reading on your phone then you may have used or heard of Read it Later. One of the most popular reading apps around, Read it Later allowed you to mark sites on your desktop browser for reading later and then when you go to the mobile app you would find them there properly formatted for the display of your smartphone.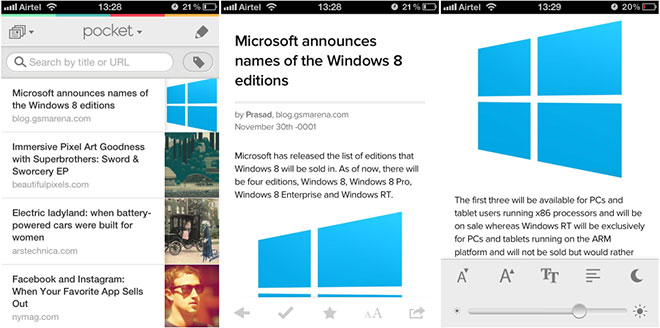 Read it Later has now gone through a major redesign and is now called Pocket. The developers have changed almost every visible aspect of the application, and it looks almost nothing like the old one. It is also completely free, unlike Read it Later, which was sold in free and paid versions.
Right off the bat you'll notice that Pocket is a gorgeous app and is miles ahead of the app that it replaces in terms of design alone. The new UI shows you the list of articles along with a thumbnail image on the right. On the top you can choose which category to display. Unlike Read it Later, Pocket supports images and videos along with articles. You can tag the items in the list, mark them as favorite or archive them for offline viewing.
Open the article and you will find the new article view with the tool bar at the bottom. With just one tap you can make the app go full screen. The toolbar lets you adjust the font size, switch between serif and sans-serif fonts, text justification and an inverse night mode. You can also adjust the display brightness independent of the main settings.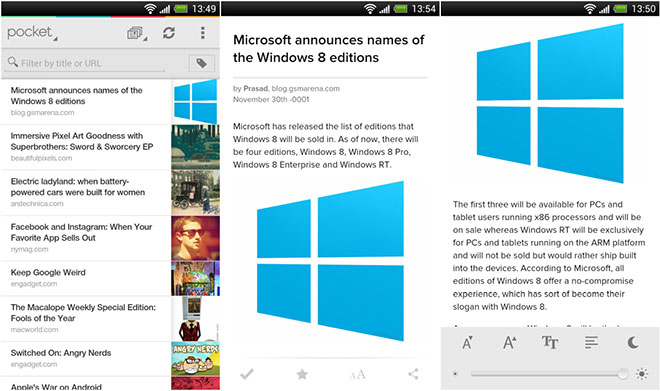 Pocket is a multiplatform app, which means along with iPhone and iPad it is also available on Android (no Windows Phone version, yet). The Android version too looks beautiful and it is optimized for Ice Cream Sandwich but the biggest problem with this version is the scrolling, which is terribly sluggish, even on powerful phones such as HTC One X. The original Read it Later app was a lot smoother in comparison. There is also a version for the Kindle Fire, although we could not try it out.
Pocket is free for download and has all the features and more from the premium version of Read it Later, which would be great news for those who were using the free version but not so much for those who recently purchased it. There are a couple of niggles with it, such as the lack of choices for fonts and the poor scrolling on the Android version but otherwise it is a fantastic app for those who like to read even when they are away from their computers.
Download for iOS • Download for Android • Download for Kindle Fire