Razer has updated their 17-inch gaming laptop – the Razer Blade – and it now comes with improved hardware and a new name. Called the Razer Blade Pro, the ultrathin gaming laptop gets some increased firepower under the hood courtesy of some next generation parts.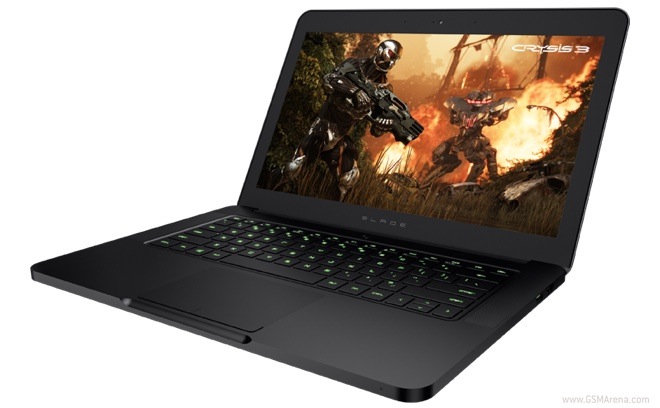 For starters, Razer has swapped the previous Intel Ivy Bridge processor in favor of a new 4th gen Intel Core 'Haswell' processor. The GPU has been updated from the NVIDIA GTX 660M on the previous model to a GTX 765M. Other specs include 8GB DDR3 RAM, 128GB SSD (optional 256/512GB drives available), 3x USB 3.0 ports, HDMI, Ethernet, Wi-Fi 802.11a/b/g/n, Bluetooth 4.0, HD webcam and the same 17.3-inch, 1920 x 1080 resolution display from the previous model. The Razer Blade Pro also has a secondary touchscreen LCD with Razer's Switchblade interface that doubles up as the trackpad, and ten user configurable keys above.
The Razer Blade Pro is priced at $2,299 and will be available on Razer's website in Q2, 2013. If you're an indie game developer with a successfully funded Kickstarter, you can get a new Blade Pro for just $999.
The reason the previous Razer Blade was promoted to the 'Pro' status is because there is a new Razer Blade in town. The new 14-inch model carries over most of the important bits from the Blade Pro, including the Haswell CPU, the GTX 765M GPU, 8GB RAM, 128GB SSD and 3x USB 3.0 ports. The 14-inch display, however, has a resolution of 1600 x 900 and the Blade lacks the touchscreen LCD trackpad and the configurable keys of the Blade Pro. However, it is incredibly thin at just 0.66-inch in height, which Razer claims makes it the world's thinnest gaming notebook.
The Razer Blade is priced at $1,799 and will be available in Q2, 2013.