We already knew a quad-core version of the excellent Snapdragon S4 processor was in the works and now Qualcomm has officially unveiled it. But it hasn't just announced the chip, and is also offering you a chance to use it on their new Mobile Development Platform (MDP), which for the first time is available in a tablet form-factor and will be sold through BSQUARE.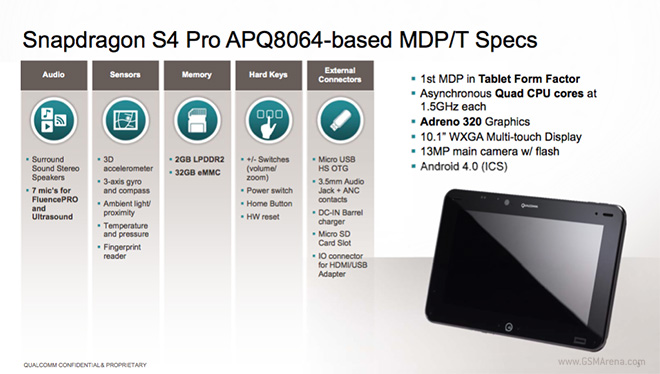 The MDP/T is primarily targeted at developers and hardware manufacturers who would want to try the new chipset and test their apps on it. The device runs on Android 4.0 but the software is not final, as is often the case with these developer devices.
Before we talk about the chipset, let's talk about the MDP/T itself. It has a 10.1-inch, 1366 x 768 resolution display, 2GB of LPDDR2 RAM @ 533MHz, 32GB built-in memory, 13 megapixel rear camera, stereo speakers, seven (!) microphones, and the usual array of sensors, including accelerometer, gyroscope, light, proximity and even temperature and pressure sensors. There is also a fingerprint reader on it.
Now, speaking of the chipset, we are talking about Qualcomm's APQ8064 here. This chip lacks the network functionalities, which is fine for a tablet but will need to be paired with a modem for use on a smartphone. The APQ8064 has the same basic CPU as the MSM8960, except instead of two you now have four cores. The GPU has seen the biggest change, and so now we get the Adreno 320, which is said to be three to four times faster than the Adreno 225. It also adds support for OpenGL ES 3.0 and Direct3D 11 feature level 9_3 (for Windows).
Early benchmarks show the APQ8064 obliterating everything else out there, except for the Apple A5X, which still has the most powerful GPU around (PowerVR SGX543MP4). Having said that, this is a MDP unit, which is designed to offer the best performance without worrying about things such as battery life that consumer products have to take care of. So expect the performance on the retail devices to be a bit slower as OEMs tune the performance to get the best balance between speed and battery life.
The Qualcomm MDP/T can be a good tool for developers but at the current price of $1,299 it is clearly targeted at only those who are serious about their job.