Following Intel's recent foray into mobile processing with the Motorola RAZR i, Qualcomm has released a video comparing it to their Snapdragon CPU.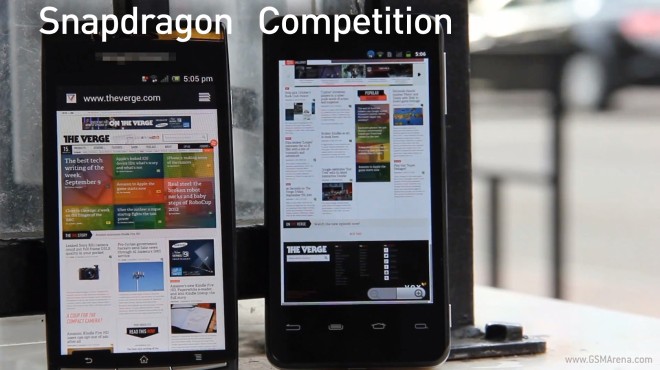 What's more, Qualcomm are comparing the Atom processor to the Snapdragon S2 architecture, which was first announced back in 2010.
First thing's first, the video:
While the Qualcomm device of choice is not new, the phone running the Intel Atom processor is not the newest either. In fact, it is the Intel Medfield reference design smartphone, which we first glimpsed back at CES 2012 about 9 months ago.
In case you need a refresher, the reference phone runs a single core Intel Atom Z2460 Medfield processor, alongside a PowerVR SGX540 GPU on a 4 inch screen of 1024×600 pixels resolution. All of this on Android 2.3 Gingerbread.
The Snapdragon device is the Sony Ericsson Xperia Arc S (that's the old Sony Ericsson logo blurred out along the top), running on a Qualcomm MSM8255T CPU and Adreno 205 GPU. The Arc S was released with Gingerbread as well, but has since received an update to Android ICS 4.0.4.
Now, we won't go too much into the performance tests, but it's safe to say that they're skewed slightly, as one device is a development device which didn't see much life in terms of consumer availability, while the other is a phone that has received some great support from Sony since its release.
If you'd like a more relevant comparison, check out our hands on of the Motorola RAZR i, complete with benchmarks of the newest Intel Atom processor.