Up until now you have been able to reply to text messages on your computer using Pushbullet – with the Android app installed on your phone and one of the company's browser extensions or desktop apps running on your computer, of course. But starting today, you can also immediately reply to conversations in some of the most popular Internet-based messaging apps.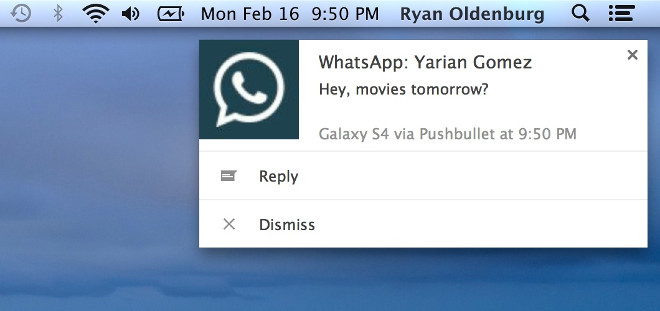 So, once you update your Pushbullet app for Android to the latest version (and once you get the newest iteration of the computer browser extension you're using), you will be able to reply to messages coming into WhatsApp, Facebook Messenger, Hangouts, Telegram, and Line straight from your computer. In fact, you can do that right from the Pushbullet notification you get on your computer.
The new feature only works if your smartphone is running Android 4.4 or newer. And there's one caveat regarding the reply functionality for Hangouts, which is that you must have the Android Wear app installed for that to work. You don't have to own a smartwatch, or even start the app at all – just have it installed.
This isn't everything that's packed into the latest version of Pushbullet for Android. You also get a new home screen widget, which allows you to easily toggle the state of Android-to-computer notifications on or off.