SSTL, might not have the same notability as the Kennedy Space Center or as catchy an acronym as NASA, but Surrey Satellite Technology Ltd in partnership with the Surrey Space Centre in the UK plan to kick 2012 off with a bang.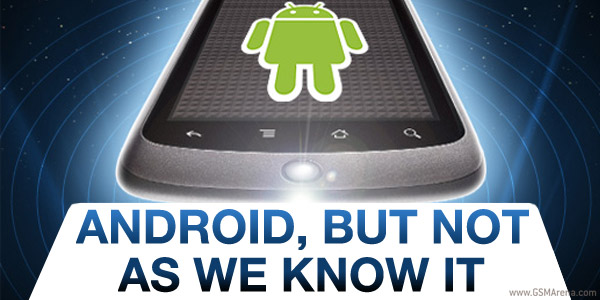 The two organizations have given winning app developers of their recent competition the chance to genuinely launch their applications into orbit.
With the aim of seeing how modern smartphones can be used as effective tools for space research, the teams at SSTL and SSC plan to put a Google Nexus One in control of a satellite expected to launch into orbit at the start of 2012.
The device will be running a number of apps developed by winners of SSTL's Facebook competition, which asked for innovative ways to incorporate some of the smartphone's key features, like the camera, screen, loudspeaker, microphone and accelerometer to generate data.
The satellite named 'STRaND-1′ (Surrey Training, Research and Nanosatellite Demonstrator) will contain apps from four prize winners. Cambridge University's Spaceflight group entered 'Scream in Space!', which utilizes the One's display, microphone and speakers to play footage of people screaming on a YouTube video and then recording the results. People can also upload their own scream videos via a website to add to the test footage. On reflection, perhaps this one isn't as scientific as you might expect, but it is fun to test the theory "in space no one can hear you scream".
The second app, 'iTesa' uses both the phone's and the satellite's magnetometers to record magnetic field fluctuations and then sends the information back to earth with the aim of helping endorse the benefits of mobile phones for scientific study in future.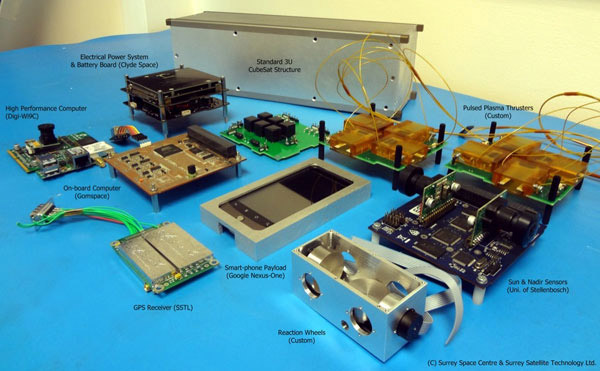 Spot the Nexus One in amidst the components
'STRaND Data' displays satellite telemetry on the One's display and using an on-board camera relays the information to Earth. Developed by a group responsible for another educational satellite FUNcube, this app provides the means of communicating with the smartphone in space.
And the final joint winners created 'Postcards from Space' and '360′ two apps with the ability to send photos taken on the One's camera by request. Users can demand satellite images of specific areas, along with geolocation data sent straight from STRaND-1. On a dedicated website they will then have their location pinpointed relative to the satellite imagery for their viewing pleasure.
This isn't the first time smartphones have passed through our atmosphere, with Google suspending a Nexus S 60,000ft up using balloons last year, but the first time one is being given some real responsibility. No doubt it'll draw some real attention once the launch date rolls around and the go-button is pressed.