PopKey is going to be a very special keyboard for iOS. The idea here is something along the lines of – why write words when you can simply send people animated GIFs instead?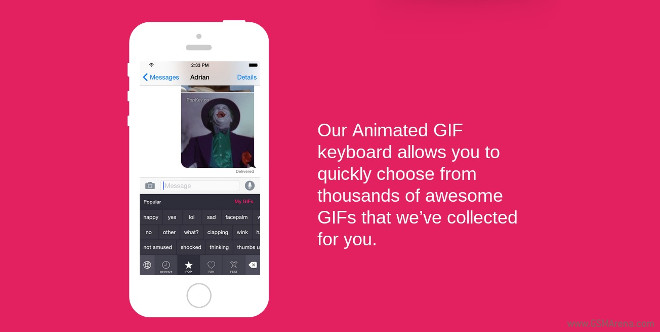 That's right, PopKey bills itself as "the world's first animated GIF keyboard". And it's coming soon to an iDevice near you.
PopKey will let you choose from thousands of GIFs, upload your own if you've made any, and find recently used GIFs easily, as they're just one tap away. You also get a Favorite GIFs collection where you can store, well, your favorites of course, for easy access. Simply by double tapping you'll be able to favorite any GIF.
The app will also come with featured categories, in which you'll find the latest trending GIFs and some special content. It's still unclear when PopKey will become available, but if you want to be notified the second that happens, head on to the Source link below and register your interest. Unfortunately you'll have to enter your email address, as for some reason you can't simply input an animated GIF into that field.