The other day we received a call from Edward Thompson, Nokia's Channel Manager for the UK and Ireland and he wanted to talk to us about 'The Connection' from Nokia and how it's designed to help retail make the most of the Finns' new flagship device.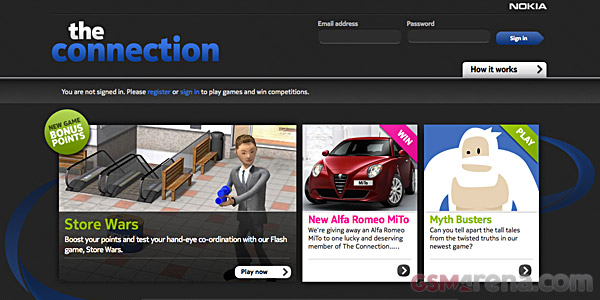 The Nokia Lumia 800 is now available in a number of markets including the UK and Ireland and for those of you who live there, chances are you've already seen at least one Lumia 800 advert, whether it be online or in the street, but the message is clear, Nokia want the Lumia to sell and sell well. It's a big shift for consumers just as much Nokia itself with Windows Phone and the 800′s industrial design creating a product unlike anything consumers will have seen from Nokia before (N9 permitting).
In an attempt to maximise the potential of the Lumia 800, alongside an aggressive consumer marketing strategy, Nokia launched 'The Connection' following its announcement at Nokia World 2011, to bolster the knowledge base and incentivize retail and call center staff to want to learn all there is to know about the 800 too, in an attempt ensure their sales pitches are more effective.
To help focus learning practices and to educate staff more effectively, the site goes beyond spec sheets and marketing spiel and actually rewards users with a host of competitions and prizes, these can range from quizzes to interactive Flash games as well as providing information on top Windows Phone Apps, Games and so on. The prizes themselves aren't to be sniffed at either with potential winners getting the chance to pick anything up from money-off vouchers at well known UK stores to an Alfa Romeo, not too shabby.
Alongside competitions, prizes and information, 'The Connection' also provides an in built blog service which is exclusively populated with user generated content, meaning you can read about a host of events and experiences which the staff have had, relating to Nokia from all the major stores and carriers, with of course a spot of light-hearted 'banter' between rivals cropping up now and again too.
It's an interesting means with which to educate the retail network and shows just how much time and care Nokia are devoting to the launch and infancy of the Lumia range. Currently the 800 is the sole device tied to 'The Connection', but we were told that the Lumia 710 would also receive the same treatment following its launch early next year.
The scheme only applies to UK/Ireland-based call center and retail store staff right now, but depending on its success, perhaps those of you working in other markets might get to try the site for yourself. If you do fit the criteria and are interested in perhaps bagging a new fridge-freezer or maybe even a holiday, check out the site itself at nokiaconnection.co.uk.
We'll have to wait and see how effective the site is when Nokia's sales figures pertaining to the Lumia 800 touchdown after the holiday season.