Google has started rolling out an update for the Play Store app on Android. Version 4.6.16 brings with it some much needed features, along with some UI changes.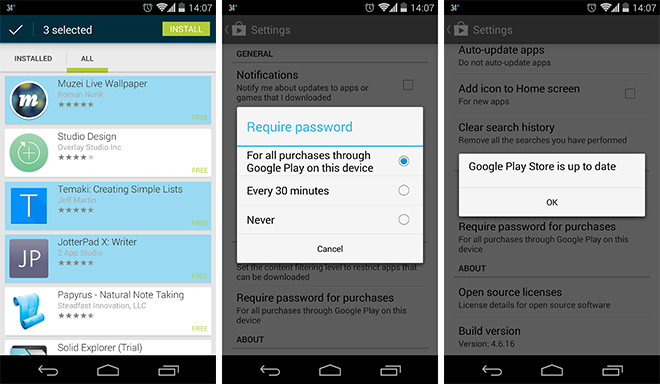 One of the major additions is the ability to batch install apps from your apps history. This will come extremely handy when you get a new device and want to install all your apps on it. You just go to the All tab in My Apps section and press and hold apps to start marking apps you want to batch install. Also, the app won't take you to the top of the list anymore after you remove an app from your list.
Another change is that you can now set how and when the Play Store asks for your password while downloading paid content. Earlier, you can either set it to ask every time or never. Now you can set a 30 minute timer, so after you enter your password once to purchase an app, it won't ask you again for the next 30 minutes, similar to the App Store.
Another change is to force the Play Store app to update itself. Previously, there was no way to do this and you either had to sideload an APK or wait for Google to push the update to your device. The app would then discreetly update itself in the background. Now you can tap on the version number in the Settings and check if there is an update available.
There are also some changes to the UI. The Settings and Help menu, which were left behind in the Action overflow menu, have now been moved to the sidebar and the overflow menu has been removed. The oddly named Add-widgets option, which actually just put an icon of the newly installed app on the homescreen, has now been renamed to the more correct Add icon to Home screen. You will also see IAP being shown in app permission dialog while installing an app and the Google+ count is now a proper number instead of the nearest approximate value.
You can either wait for the update to be pushed to your device or head over to the source link to download the APK.