Pinterest is a social photo sharing website that was released last year, where users 'pin' the photos they like (not necessarily their own but also something they found online) and thus share it with others. You can also follow other people and see the images they have pinned. The site categorizes pictures into various categories so it becomes easy to look at pictures from categories you like.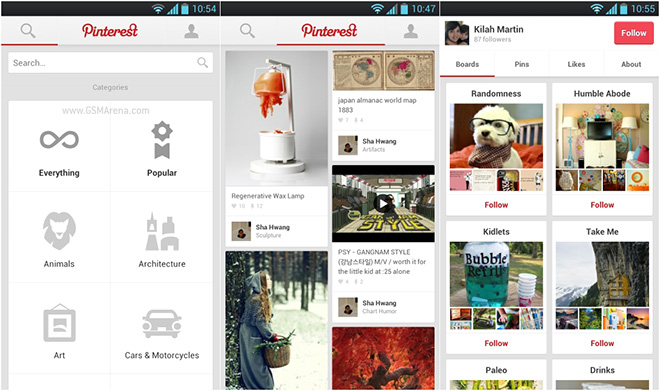 Last year, we got a mobile application for the iPhone, which for a long time remained the only mobile application for the service. Now, after over a year, Pinterest has released an Android as well as an iPad version of its mobile app.
The Android version of the app has a similar UI to the iPhone app but has enough differences to not look like a direct port. You can scroll vertically through your timeline and photos appear as tiles of various sizes. You can swipe right to go to your profile or left to see all the various categories.
The UI is very polished and looks gorgeous. It also works quite well with smooth scrolling and subtle but effective transition animations.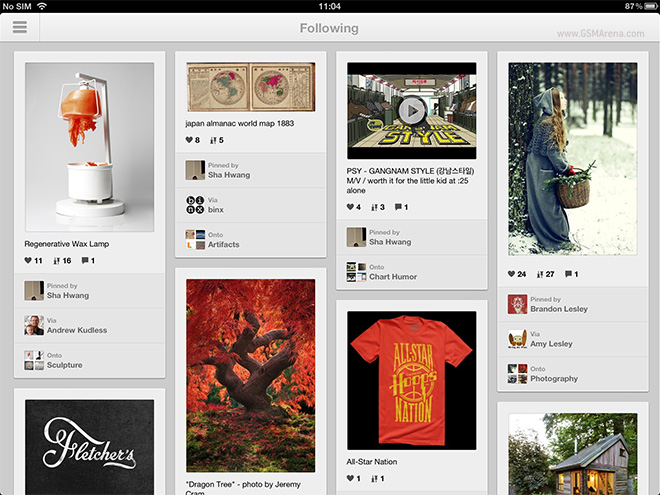 The iPad version is equally nice and makes good use of all that screen real estate, with a UI that closely resembles the Pinterest website. Meanwhile, the iPhone version gets some stability and performance updates.
Both applications are free and available for download on their respective stores. Of course, you'll need to be a member to use them but you can also log in using your Facebook or Twitter ID.
The Android version is now available on the Play Store and will be out on the Amazon Appstore by the end of this week.