Ebay and some of its overly entrepreneurial sellers have managed to profit handsomely from the craze which followed the release of Apple's iPad 2. The data which the popular auction site released this Thursday is clear. There are plenty of people (about 12,000 of them to be precise), who are willing to avoid the long lines and shipping times, which the mere immortals have to endure to obtain the precious device. This task has been accomplished by paying a premium in the range of 40 to 53% above the original price of the iPad 2.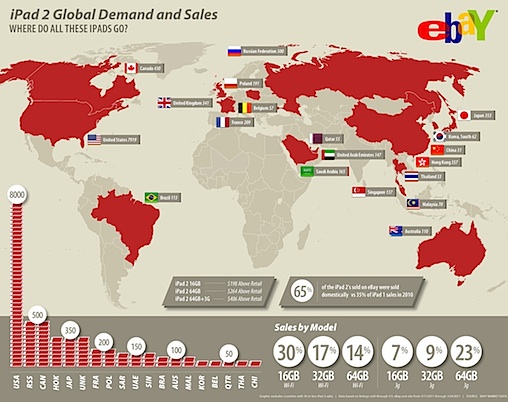 The most sought after devices from the model line are the low-end 16GB Wi-Fi version, and the top of the line 64GB Wi-Fi/3G tablet. The significantly higher prices of the iPad 2 are also a consequence of the fact that major industry analysts put in question Apple's ability to maintain a stable supply chain in the near future, especially in lieu of the disaster in Japan.
Check out the infographic to see where the biggest iPad fans are. Also keep in mind that the original iPad is readily available in stock at all major retailers at a reduced price.