Every phone, smartphones included, has to pass certain tests and requirements in order to be allowed on the market. FCC is the responsible authority for the USA, TENAA for China, etc. Before any device is submitted to those government agencies though it must pass a bunch of internal tests, which are often far tougher and stricter.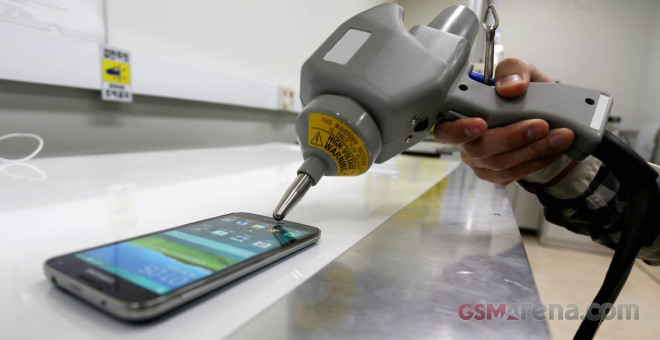 Samsung has shed some light on what the Galaxy S5 test facilities look like and how it was used to make sure the flagship is as great as possible.
One of the primary concerns of every certification authority is the emitted radiation, so Samsung naturally has this room for such testing purposes. The liquid imitates human fluids, while the probe measures the radiation. The last room is where the engineers measure how a device's radiation affects other on common electronics.
Audio testing and coverage are of great importance too. The first room tests the radios inside the phone, the second is used to test devices' microphones, while the third is all about background noise and how the gadget's noise canceling is handling it.
Audio quality is very important too.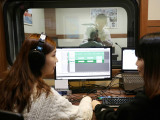 The camera should also pass various tests. You can see Samsung's employees doing shots on resolution charts, color posters, while the latter arc-like tool measure the LED flash range.
Home button is an Achilles's heel for many phones and that's why Samsung puts the key under extensive click torture to ensure it can survive the entire lifecycle of the smartphone.
You bet the device's temperature is measured via thermal cameras too, so the manufacture can be sure it won't overheat under extreme system overload.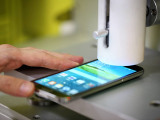 This thing imitates static electricity, because it can kill a phone. Samsung makes sure this doesn't happen and this is probably where lots of early prototypes have died.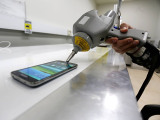 Water and dust tests are also conducted. The dust test is required even on non-dust protected phones to ensure it is capable of handling the dust it will accumulate during its lifecycle.
Finally this machine drops the phones so Samsung finds their weak spots and reinforces them to make them extra tough. Samsung believes people drop their phones a few times during their lifecycle, so the manufacturer makes everything possible to make its Galaxies survive the falls.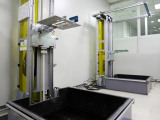 The latest and greatest Galaxy S5, which went through each and every room in the Samsung lab is officially out there as of today. You can check our review right here.