Two years after the original, the Parrot AR.Drone 2.0 ascends the CES stage. The new version is easier to fly yet more capable than its predecessor. It packs an upgraded camera that shoots HD videos and photos in-flight, as well as a tougher exterior and new sensors.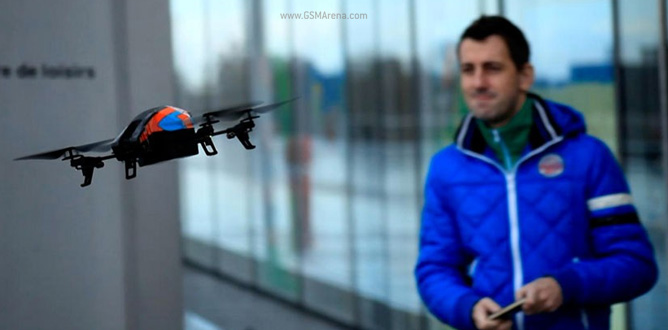 The apps which control the drone are getting an update to support the new functionality – the update should hit the iOS and Android versions at the same time. The new app makes sharing the videos you shoot easier – one tap lets you share and upload to YouTube.
Actually, the interface of the whole app has been reworked and is easier to use. It's compatible with the old drone, so current AR.Drone owners will get to enjoy the new user experience as well.
You can see the new app interface and some on-board footage from the AR.Drone 2.0 in this video:
The AR.Drone 2.0 features a magnetometer, which combined with the magnetometer in the controller device (an iOS or Android phone or tablet) enables Absolute Control mode – basically "forward" for the drone is based on where you're facing rather than where the drone is facing, making flying more intuitive.
In case this explanation wasn't clear enough, here's a video that explains it:
A new pressure sensor gives the drone better stability and the ability to fly at heights of 6m or above. Parrot says that the limit of how far the AR.Drone 2.0 can go is the range of its Wi-Fi connection (which is used to connect it to the controller device).
The battery life remains unchanged from version 1.0 despite the new features and so does the price – $300. The Parrot AR.Drone 2.0 is expected in Q2 of this year.
For more info on the new drone, you can go to Parrot's web page.