The LTE rocking Pantech Burst for AT&T has a relatively small for its spec sheet, 1650mAh battery on board, which has a lot to deal with. We were therefore quite curious to find out how will it fare in our battery test.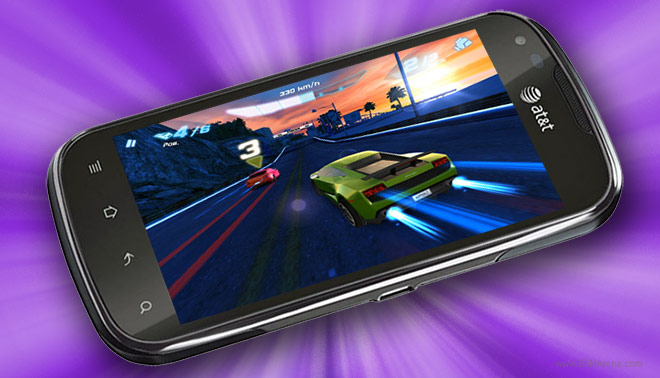 As always, the first feature we examined was the device's talk time. Here the Pantech Burst managed to achieve the worst result we've seen yet with a time of 4 hours and 46 minutes.
Talk time
Motorola DROID RAZR MAXX




20:24

Samsung Galaxy Note




12:14

Samsung Wave 3 S8600




11:07

Samsung I9103 Galaxy R




9:40

HTC Sensation XL




9:30

Nokia Lumia 710




9:05

HTC Vivid




9:02

HTC Rhyme




8:48

Sony Ericsson Xperia neo V




8:41

Meizu MX




8:39

Samsung Galaxy S II




8:35

Nokia Lumia 800




8:25

Samsung Galaxy Nexus




8:23

Samsung Captivate Glide




8:20

HTC Rezound (LTE)




8:10

Samsung Galaxy Note (LTE)




8:02

Apple iPhone 4S




7:41

Samsung i937 Focus S




7:25

Samsung Rugby Smart I847




7:09

Sony Ericsson Xperia Pro




6:57

Nokia N9




6:57

HTC Radar




6:53

BlackBerry Curve 9380




6:52

LG Nitro HD (LTE)




5:16

BlackBerry Bold 9790




5:00

Pantech Burst




4:46
Things got significantly better for the Pantech Burst, once we got to the web browsing section of our battery trial. Here, the handset achieved the respectable 5 hours and 51 minutes before its battery called it quits – a score which puts it in the upper echelons of our battery test participants.

Web browsing
You must keep in mind however, that the web browsing time was achieved with the device connected to a Wi-Fi network. You can reasonably expect the battery to do worse over an LTE connection.
Video playback time was far from impressive. With 5 hours and 38 minutes, the Pantech Burst can hardly qualify as the portable player of your dreams. Its 4″ screen however, does not put it in this category anyway.
Video playback
The Pantech Burst achieved an overall endurance rating of 31 in our battery test. This means that you will need to recharge your smartphone every 31 hours if you use it for an hour each of telephony, web browsing, and video playback every day.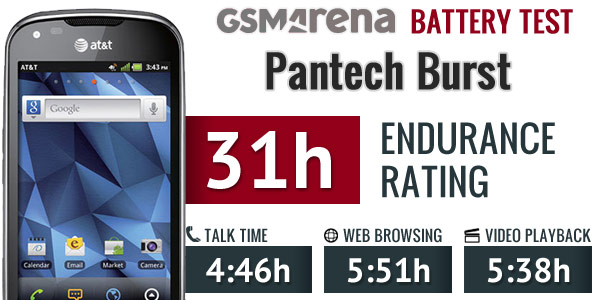 The Pantech Burst is yet another proof that the LTE smartphones have a long way to go in terms of battery efficiency. When used on a daily basis, we had a hard time making it through a full day with the device. And by a full day, we mean 15-16 hours of being away from a charger. We do therefore, recommend that you carry one with you just in case.
To find out all about the Pantech Burst, check out our full review here.