Tablets are once again making headlines at CES with Panasonic being the latest to show off new offerings.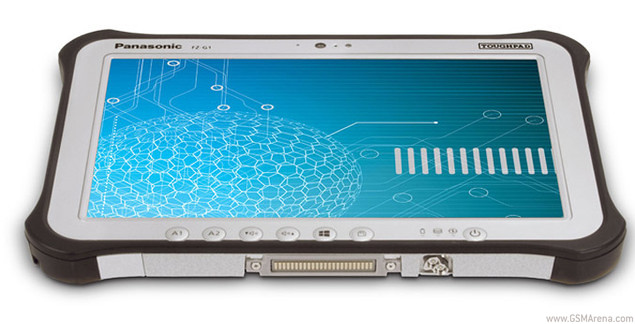 The company unveiled the Windows 8 Pro-running Toughpad FZ-G1 with the Android 4.0 ICS JT-B1. Both are extra durable and coming later this year.
The Toughpad FZ-G1 has a 10.1″ 1920 x 800 display, Intel Core i5 chip, 4 to 8 GB of RAM and SSD storage ranging from 128 GB to 256 GB.
There's USB, HDMI, Ethernet and a microSD card along with Bluetooth and Wi-Fi. GPS and a data connection are optional.
The Toughpad FZ-G1 is both MIL-STD-810G and IP65 certified, meaning its made from very durable materials and is dust proof and water resistant.
The FZ-G1 can be yours starting at the whopping $2899 from March.
The second tablet is weirdly named exactly like its predecessor – Toughpad JT-B1. It's not the same product though – the new JT-B1 is running on Android Ice Cream Sandwich 4.0, has a TI OMAP4460 dual-core processor with each core clocked at 1.5 GHz, a gig of RAM and 16 GB of storage.
It features an over-the-top 13 MP camera on the back and a 1.3 MP front-facing one.
GPS, Wi-Fi, NFC and Bluetooth are all there with the option for LTE data connection.
The JT-B1 can be yours starting February starting at $1199.