Panasonic announced the LUMIX G3 interchangeable lens camera with a 16MP sensor, 1080p video recording in AVCHD and a swivel touch screen. It's their smallest and lightest Micro Four Thirds model yet.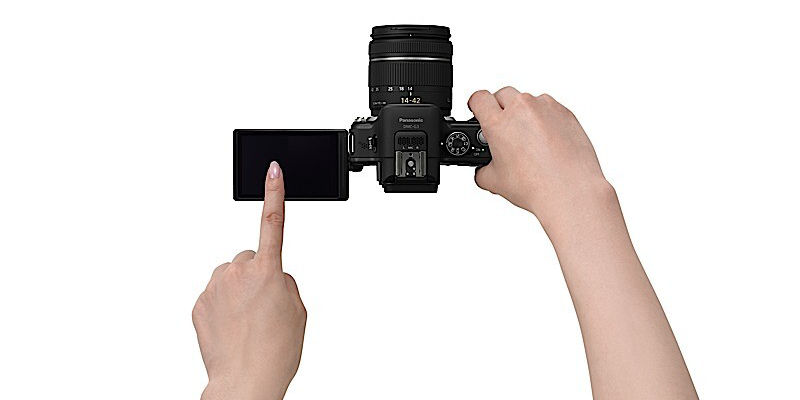 There's a preview of the LUMIX G3 already available, complete with many camera samples.
The Panasonic LUMIX G3 uses a 16MP sensor with the Venus Engine FHD image processor and boasts improved performance in high ISO modes. It shoots full resolution bursts at 4fps using the mechanical shutter. The LightSpeed AF system earns its name by focusing in 0.1 seconds using a 14-140mm lens.
A swivel capacitive touchscreen (3", SVGA) will help you set up your shots. The screen can be rotated 180° and swiveled 270°. It lets the LUMIX G3 do tricks like touch focus – tap on a subject to focus on it and the tracking autofocus will keep things in order even if the subject moves. The touchscreen can also control background defocusing, exposure compensation and white balance.
You can use the electronic viewfinder (SVGA, 0.7x magnification) too if that's how you roll.
The Panasonic LUMIX G3 offers a mode dial that lets you choose from clever iA modes that automatically pick the best settings to manual modes (aperture and shutter priority, program and manual modes).
The G3 is an interchangeable lens camera which uses the Micro Four Thirds (MFT) mount and with an adapter you can use Leica M and Leica R lenses. A dust reduction system shakes off any dust that might get on your sensor. There various lens available for the camera including a 3D lens.
The Panasonic LUMIX G3 sports an aluminum body (which will be available in different colors including black, white, red and brown). It will be available in June 2011 with a 14-42mm Zoom Lens Kit for $699.99.
DPReview already has a preview of the G3 up and Photography Blog have a >hands-on too (also an unboxing and Q&A).