Doomsday preppers behold – the Panasonic Toughpad FZ-E1 is the only phone you need for a zombie apocalypse, if you are a fan of Windows Embedded 8 that is (not WP8!). The handset is rated for IP68 and MIL-STD-810G and can survive drops from 3m (10ft).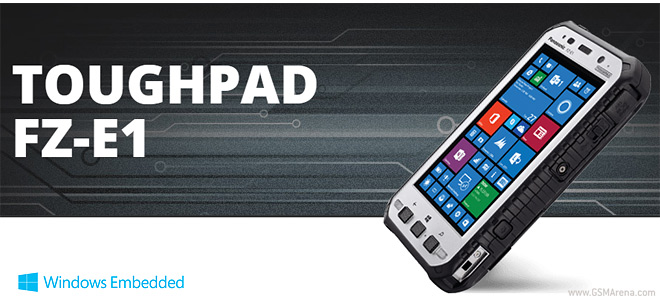 And was certified by the GCF in the States, meaning it will be available over there too.
The Panasonic Toughpad FZ-E1 features a 5″ 720p display and is powered by a speedy Snapdragon 801 chipset with 2GB of RAM that runs Windows Embedded 8.1 Despite the power, the massive 6,200mAh battery will keep the phone going for up to 14 hours.
An equally massive 60W charger can fill the battery half way in an hour (3.6h to full). The battery itself is hot-swappable (a bridge battery keeps the device going for 30s to 2 minutes), plus you can buy a charger with 4 bays for extra batteries.
The device is aimed at rough environments – it can survive water jets, submersion in 1.5m (5ft) of water, drops from 3m and temperatures ranging from -20°C (-4°F) to 60°C (140°F). The screen supports usage with gloves and will continue to work even in the rain (water messes with capacitive touchscreens). For underwater use there are 2-4 user-customizable buttons.
There's generous 32GB of built-in storage and support for 64GB microSD cards. The main camera is an 8MP shooter with an LED flash and an 2.1MP selfie camera.
Initially a Wi-Fi only version of the device was launched at $1,900, but soon you should be able to grab the one with full voice and data connectivity – up to LTE Cat. 4, which has a maximum download speed of 150Mbps. It's also available in Europe for €1230 or £910.
Anyway, other connectivity includes Wi-Fi a/b/g/n/ac, Bluetooth 4.0, GPS, NFC and an optional integrated 1D/2D barcode reader (for organizing supplies in the bunker presumably).
As you can imagine the Panasonic Toughpad FZ-E1 is no small device by any measure – it's 165.1mm tall, 86.4mm wide, 30.5mm thick and weigh a whopping 425g. You can think of it as an extra feature, the phone doubles as a blunt weapon.
Source (in Japanese) | Full specs (PDF) | Via