Apple has done plenty of chest-beating about their App Store but the Android Market is catching up fast.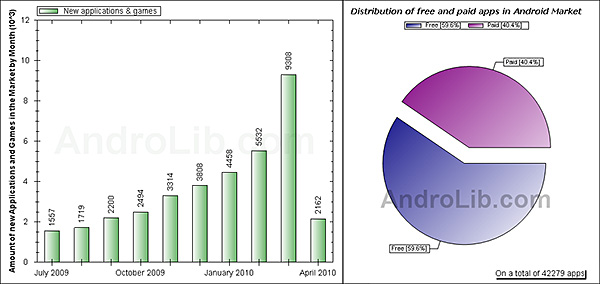 The number of apps and games being uploaded to the Android Market per month keeps growing, but still more than half of those are free…
The last headcount shows that there are just over 40,000 apps in the Android Market. By AndroLib's estimates out of all those apps, 59.6% are free and the rest of them are paid.
But the more interesting graphic is the one that shows how many apps and games in total were entered into the Market each month – starting with July last year when there were about 1500 additions to the Android Market to last month where a cool 9300+ apps and games went on the virtual shelves of the Market.
Looking at the chart, you'll notice a trend – the number of new entries a month grows and the rate of growth is increasing. Could the Android Market catch up or (gasp!) overtake the Apple App Store in the number of applications available?
Hit the source link for even more charts – number of entries per day and entries per day for the country specific Markets and more.
Source: AndroLib Statistics, AndroLib Distribution of free and paid