Just a few days ago we told you about Oppo's deal with FC Barcelona, which means the Chinese smartphone maker will be the Catalan football club's sponsor for three years. And now Oppo is in the mood to celebrate the tie-up with FC Barcelona, since it's decided to give away an R7.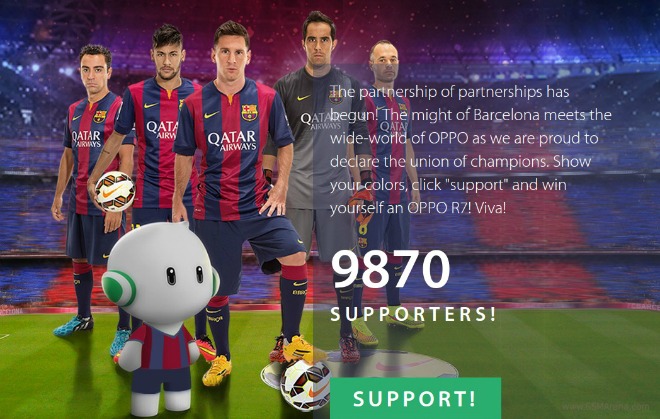 To win the smartphone, all you need to do is go to the special website for the competition and click on the big green "Support" button. That will then open a widget which will guide you through the rest of the process. It looks like you might need to do some sharing over social media and whatnot.
So far, a little less than 10,000 people have registered for the raffle, as you can see from the screenshot above. There are three days left to add your name to the list if you want to.
The Oppo R7 which you can win was made official last month alongside the bigger R7 Plus. It's a device with a 5-inch 1080p touchscreen, a 13 MP rear camera, an 8 MP selfie snapper, 3GB of RAM, 16GB of expandable storage, and a 2,320 mAh battery. It runs Android 4.4.2 KitKat and it's powered by Qualcomm's Snapdragon 615 SoC, which boasts a 1.5 GHz octa-core CPU.