If you like browsing on your mobile, but don't like worrying about hitting your data cap, you might have opted for some sort of unlimited data plan (like myself).

Such plans have become scarce of late as carriers wise up to the potential revenue benefits that data caps can bring, whilst helping take a little load off their networks at the same time. If you're smart though, you can still get the best out of your mobile data allowance, something that the folks over at Opera Software can shed a little light on.
Of course Opera are responsible for one of the top five most heavily used web browsers around and in recent years they've been able to bring their own flavor of browsing experience to the mobile world with versions available for iOS and Android to name a couple.
Opera's 'hook' is their server-side compression setup. Browsing from your phone when not connected to a Wi-Fi network can eat up your data allowance fast, so what Opera illustrates here is just how much users could potentially benefit from their tech to avoid any nasty penalty charges and speed up page load times.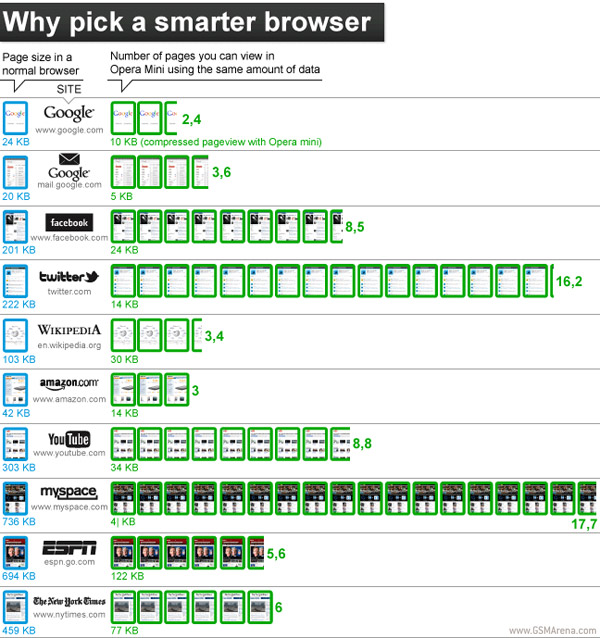 This infographic show just how many times compressed versions of popular sites can be loaded for the same amount of data it takes to load the uncompressed site once
It's interesting to see how pages stack up against one another especially when they've been squeezed through the Opera compressors. What are your thoughts on Opera as a desktop or a mobile browser, do you love it, hate it or are you swayed either way by this infographic, let us know in the comments.