A few weeks ago, we heard that Opera was planning on switching over the open source WebKit engine to power its mobile browser on the Android platform, instead of the Presto engine it is currently using. WebKit is the same engine that powers browsers such as Safari, Chrome and the stock Android browser.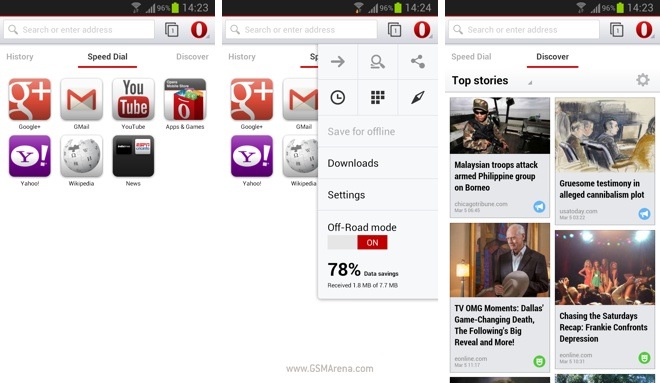 Opera has now released a beta version of a new browser for Android that uses this WebKit engine. We decided to give it a try and see how it compares against Chrome.
Before we get to the benchmarks, let's talk about the new UI. The new version moves the UI to the top and places all options into a button on the top right corner. The homescreen has three tabs, speed dial, for quickly accessing your most used sites, history and a discover tab where you will find interesting articles curated by Opera.
The tab menu changed and now shows larger thumbnails for each of the open tab. You can also open a private tab so that your browsing history isn't logged.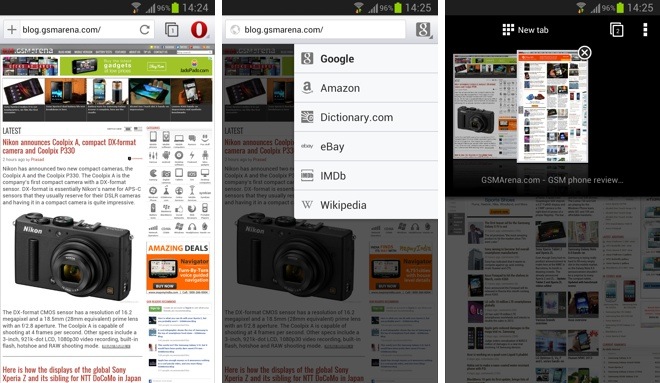 Browsing performance on the new beta was quite satisfactory and not too different than what you see on Chrome or stock Android browser. It uses similar font rendering as Chrome, so text appears larger than usual so that it fits the width of the display easily when you zoom in.
If you want to improve page loading speed even further and also save some data while doing it, you can enable the Off-road mode, which basically turns the browser into Opera mini, compressing all the data and routing it through a proxy server to your device.
So how does it compare against Chrome? Quite well, actually. In fact, although both browsers are neck and neck in most tests, Opera beta manages to overshadow Google's browser in pretty much every benchmark except for Google's own Octane. You can see the results below yourself.
Sunspider (Lower is better)
Opera browser beta




1010.1

Chrome




1121.1
Octane (Higher is better)
Opera browser beta




2027

Chrome




2100
Kraken (Lower is better)
Opera browser beta




18196.5

Chrome




23779.5
Browsermark 2.0 (Higher is better)
Opera browser beta




2362

Chrome




2262
As you can see, Opera is ahead in most tests, and since it is still in beta things could improve further in the final version. The beta tag also means that it is not the most stable right now, as I found at when the browser crashed not long after I started using it, so expect such hiccups if you intend to use it.
The Opera browser beta for Android is now available on the Play Store and you can download it for free from the link below.