There were plenty of doubters who said Opera Mini wouldn't be approved for the iPhone. Guess what happened after just 24 hours after it was approved – it scored over 1 million downloads. It's as if people really wanted it, huh?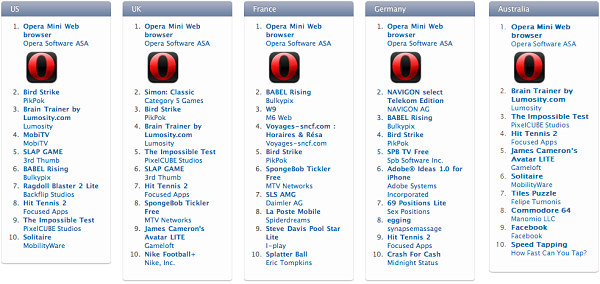 Well, happy million downloads mark to Opera and their Opera Mini browser, that with the inclusion of the iPhone OS, is available for every mobile platform under the Sun (yes, even BREW).
The Opera Mini browser holds the top spot in each of the 22 featured App Stores. Check out the full screenshot – it looks almost overwhelming.
Of course, this precedent energized the competition – the Skyfire team said "this will certainly accelerate our strategy on iDevices". If you haven't heard of it, Skyfire has a similar approach to browsing the Web as Opera Mini, but adds Flash and Silverlight support to the mix.
Anyway, the day belongs to Opera, so once again we congratulate them on achieving this important milestone in such a short time.