The Micro Four Thirds system is all about delivering DSLR quality in a package that you can easily slip in your pocket. And that certainly makes the Olympus E-PL1 that just leaked its best member that the world has seen. Smaller and cheaper than both the E-P1 and E-P2, the E-PL1 will also pack a built-in flash, unlike its predecessors lacked.


Update: It has just been officially announced

The Olympus E-PL1 will also be available in three different color versions to underline its "I'm real fun to use" mojo. The exact dimensions of the mirorless body are 114.6 x 72.1 x 41.4 mm and its weight is 295 grams only. The E-PL1 will be built around the same 12MP sensor as its predecessors E-P1 and E-P2.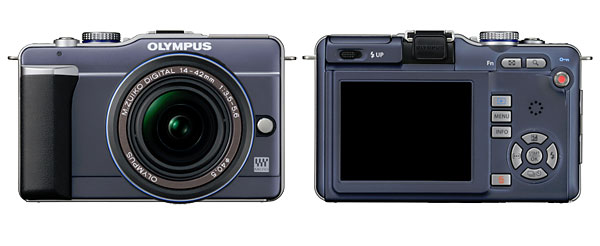 The Olympus E-PL1 will be available in March 2010. The kit price for the body and the 14-42mm f/3.5-5.6 M.ZUIKO DIGITAL ED lens will be 600 US dollars, which sounds like a bargain to me. Now if only they fixed the contrast-detect autofocus to work as in their Panasonic-made cousins and it would be an offer incredibly hard to resist.
Along with the E-PL1 body leaked two Zuiko Digital Micro Four Thirds lenses. The M.ZUIKO DIGITAL ED 9-18mm f/4-5.6 (35mm equivalent 18–36mm) and M.ZUIKO DIGITAL ED 14-150mm f/4-5.6 (35mm equivalent 28–300mm) zooms are more than twice smaller and three times lighter than virtually any equivalent lenses for other systems. Quite the real deal for those of you that like to travel light.