Olympus announced several new additions to their portfolio at CES 2011 including the enthusiast compact XZ-1 and the Micro Four Thirds E-PL2. Along with those, the company unveiled a couple of rugged ultra compacts (TG-610 and TG-310), a budget camera (VG-120) and a superzoom compact (SP-610UZ).

Olympus PEN E-PL2 is built around the same 12 megapixel Micro Four Thirds sensor as its larger and more expensive sibling, the Olympus E-P2. The E-PL2 comes with a larger and higher resolution screen than its predecessor – 3" and 460k dots vs 2.7" and 230k dots. There's also a built-in flash. The camera also comes with a redesigned version of the collapsible 14-42mm f/3.5-5.6 kit lens.
You can check out the PEN E-PL2 complete specification and find an early preview over at DPreview.com
The Olympus E-PL2 will start selling this month in the US. Its estimated kit price is $600.
The other major announcement is Olympus XZ-1 compact with its ultra-fast f/1.8-2.5 wide zoom lens. The enthusiast camera is built around a large 1/1.63" 10 megapixel sensor and covers the 28mm-112mm range in 35mm equivalent. The video recording capabilities of the camera go up to 720p@30fps.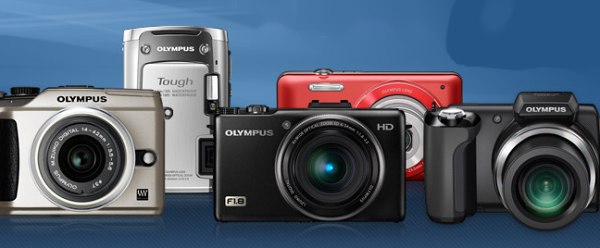 Olympus is obviously hoping to steal some of the Canon G12 and Panasonic LX5 market share with the XZ-1. The enthusiast compact should be available later this month for an estimated price of $500.
Until then you can check out its preview to get a taste of what to expect.