Sony's lens style cameras (QX10 and QX100) seemed like oddball devices, but they are gaining popularity. The Olympus Air A01 takes a micro four thirds image sensor from the company's OM-D and PEN cameras and puts it into a self-contained body that can be attached to and controlled by a smartphone.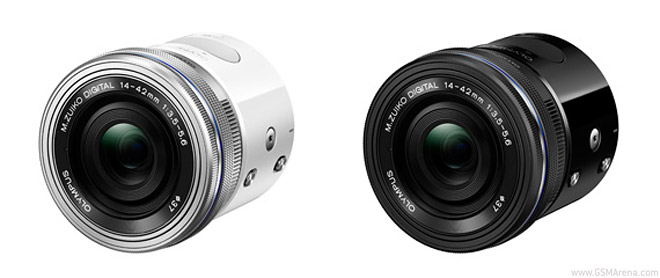 The Air can use any lens from the M.Zuiko lineup to offer additional flexibility.
The hardware includes a 16MP Live MOS sensor and a TruePic VII image processor, found in the OM-D and PEN cameras. The FAST AF system delivers fast and accurate autofocus, with the focus points controlled from your smartphone.
The Olympus Air can do 10fps sequential shooting and offers shutter speeds of up to 1/16,000s. The camera connects to the smartphone over Bluetooth and Wi-Fi, a QR code simplifies the initial setup. The battery is good for 320 shots.
Olympus advertises this as an open platform and will release a software SDK and schematics as part of its OPC Hack & Make project. To get things going, the company will launch eight apps, which include manual controls, Photo Story (combining multiple viewpoints to a single scene) and various filters and effects.
The Olympus Air A01 will launch on March 6 for JPY 36,504 ($310/€270) for just the camera body and JPY 53,784 ($460/€400) for the Air and a M.Zuiko 14-42mm f/3.5-5.6 lens (the prices include tax). The only thing that's not clear is what smartphone platforms are supported – the press release is mum on the issue.
Note that the Sony QX1 is a lens style camera with interchangeable lens and an APS-C sensor. Kodak has lens style cameras too, though none with removable lens.