The NVIDIA Shield Tablet has been available for many weeks now, but so far only in a 16GB Wi-Fi-only iteration. A 32GB version with support for 4G LTE networks has been promised, and starting today you can pre-order it.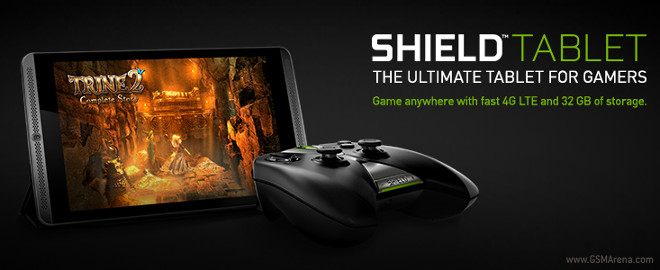 It will set you back $399, which is $100 more than the model that comes with less storage and sans high-speed data connectivity.
Pre-orders are currently live in the US and Europe, and the tablet will start shipping on September 30. In the US, you can find it on NVIDIA's official website, as well as at Amazon, Best Buy, Fry's, GameStop, Micro Center, Newegg, and Tiger Direct, while in Europe it's apparently being offered by "many top e-tailers". The "Where to buy" section on your local NVIDIA website should guide you to the one that's nearest to you.
If you activate the Shield Tablet on AT&T's 4G network, you'll receive a $100 bill credit. The tablet is sold fully unlocked, though it is certified for use on AT&T. According to NVIDIA, three new Android games optimized for the Shield Tablet are coming soon. These are Beach Buggy Racing, BombSquad, and Broadsword.
The NVIDIA Shield Tablet has an 8-inch 1,920×1,200 touchscreen, a pair of 5 MP cameras (one on the front, one on the back), and 2GB of RAM. It's powered by NVIDIA's own Tegra K1 chipset, which comes with a 2.2 GHz quad-core Cortex-A15 CPU and a 192-core Kepler GPU.