After announcing a significant three-month delay, the new NVIDIA GF100 product line is finally scheduled for launch in March. The Fermi cores will offer native DirectX 11 support, lots of technology improvements and supposed superior performance.

AMD have taken the lead over NVIDIA recently and released the first DirectX 11 video cards a lot earlier. Their top single-chip HD5870 has 2.15 billion 40nm transistors, 256-bit GDDR5 interface, 1600 SPUs (Streaming Processing Units), 80 texture units, 128 Z/Stencil ROP and 32 Color ROP units. RADEON HD5970 just doubles these numbers.
As a comparison, the latest NVIDIA GF100 will pack 3 billion 40nm transistors, 384-bit GDDR5 interface, 512 CUDA cores and 48 ROP units. Well, these numbers and names probably mean nothing to the mainstream user, but they all boil down to one thing – performance.
NVIDIA promise far greater results than those of the current best-of-the-best – the Radeon HD5870. NVIDIA have also gone even further working on new ways for improving the geometry performance and their tessellation test ended in far better results than the ATI card (up to six times better actually).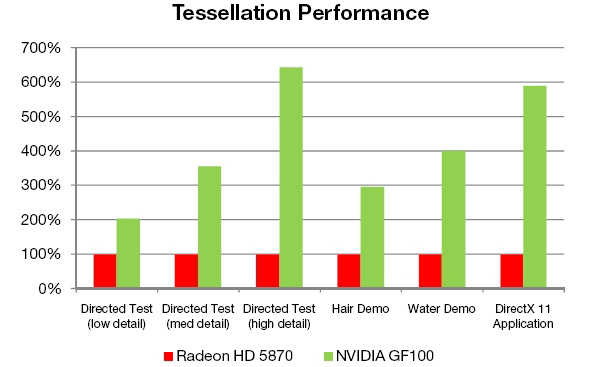 Meanwhile AMD prepares to unleash their budget cards from the 56xx and 54xx series that will make most current NVIDIA products quite overpriced.
Before we see any real numbers and performance tests, it will remain unclear whether NVIDIA will take the lead again. March is close and it seems AMD aren't afraid of what's coming and will continue to strengthen the mid and low-end products line ( they've got the still unannounced HD55xx and HD53xx families in the oven).