Nokia was among the first manufacturers to include Wireless Charging tech into its smartphones and has a rather cool line of Wireless Charging accessories. We have two of them here at HQ and they work together nicely to carry out their out-the-way no-wires-needed assignments with style.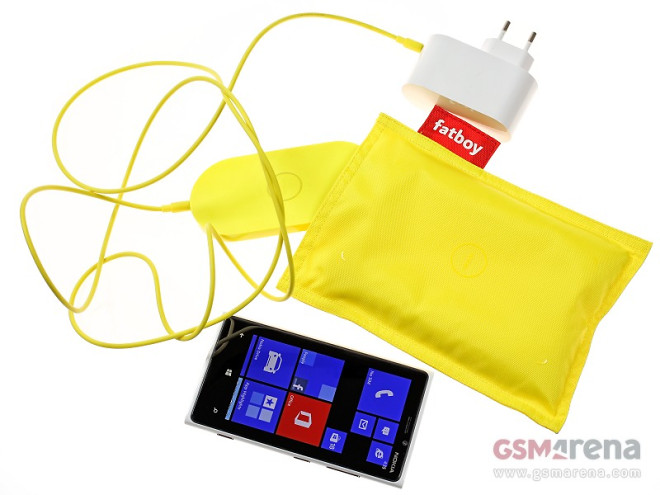 The Wireless Charging Plate and Fatboy-made Wireless Charging Pillow go very well together. The Wireless Charging Plate is the soul of the operation but it you want to encompass your handset in a lavish pillow you can put the plate inside the Wireless Charging Pillow and just drop the phone on it without worrying it will get scuffed or scratched.
The Wireless Charging Plate retails for about £55 or €68 but if you want it bundled with the Fatboy Pillow you'll need to shell out around £80 or €100. That's not a modest asking price for what's essentially a charger with a tiny pillow but a lot of design an appeal have gone into making both accessories.
Design and ergonomics
Both accessories sport a bright yellow paintjob but you could also get them in Cyan, Red, White and the more cultivated Black. And although both are specifically tailored to Nokia's Lumia range of devices we found them to work just as well with any other Wireless Charging-enabled device, for instance the LG Nexus 4.
The Nokia Wireless Charging Plate weighs 93 grams, which is more than acceptable for an accessory you're not likely to lug around that much.



The Wireless Charging Plate and Pillow by Nokia
The Wireless Charging Plate is compact and when nestled under the Lumia 920 can almost disappear. When coupled with the Wireless Charging Pillow it is far easier to spot and the immediate benefit is the additional room you get to place your device. The Nokia Wireless Charging Plate gives you room to maneuver your phone while charging – a couple of centimeters won't disconnect the phone like it did with the Samsung Galaxy S4′s accessory.
Samsung chose to incorporate Wireless Charging technology in its Galaxy S4 smartphone via an additional back cover and a similar, if not as compact or minimalist, design. Nokia, on the other hand, have different approaches for their devices. The Lumia 920 has wireless charging built right in, the Lumia 820 needs to have its battery cover replaced, while the Lumia 720 needs an extra clip-on accessory.
The Nokia Lumia 920 has the added heft but once you place the phone on the accessory you forget about the weight and can easily get used to it thanks to the benefit of not having A/C adapters lying around. The Nokia Wireless Charging Plate comes with its own 2.5 mm charging connector and a long cable (1.8 meters to be exact) but if you can get it out of the way behind some furniture what you're left with is a minimal accessory on your desk, which can charge your device with ease.
Charging times – this one's for the win
So let's check out the numbers and see if the Plate is better than the conventional cable charging.
The Wireless Charging Plate actually did a good job of charging the Lumia 920 from 0% all the way up to full. It completed the task in exactly 2 hours and 40 minutes, which is more than reasonable, especially considering that Samsung's Wireless Charging Pad took an extra 1:10 hours to do the same to the Galaxy S4. But let's not point any fingers here as the Samsung flagship does have an extra 600 mAh on its battery compared to the Lumia 920.
The Plate has an output of 750 mA compared to the 1 A of the conventional Nokia A/C adapter that comes in the Lumia 920 retail box. So the microUSB charger should do a significantly faster job of charging the Lumia 920.
Well it did, in a way. The microUSB carger got the Lumia 920 from 0% to 100% in a minute over 2 hours. That's a whole 39 minutes faster than the Wireless Charging Plate.
Nokia Lumia 920 charging times
Lower is better
Wireless Charging Plate





2:40

MicroUSB wall charger





2:01
Final words
So if you want to get the wires away from your smartphone the Wireless Charging Plate is a nice way to go and it won't delay your smartphone needs all that much compared to a regular charger. So is it worth it for the premium Nokia's asking? Well it's up to you. Coolness factor is definitely in the Wireless Charger's favor but there are still wires, even if they are attached no attached straight to your phone. We give the Wireless Charging Plate and Fatboy Pillow a thumbs up for creativity and ease of use. They may not be a necessary accessory, but are certainly one of the ones that are most fun to use.