Nokia has updated its Nokia Transport (known as Transit in North America) for Windows Phone 8 with a revamped interface. The company is also working on apps for Windows Phone 7 and even Symbian, but those are in beta right now.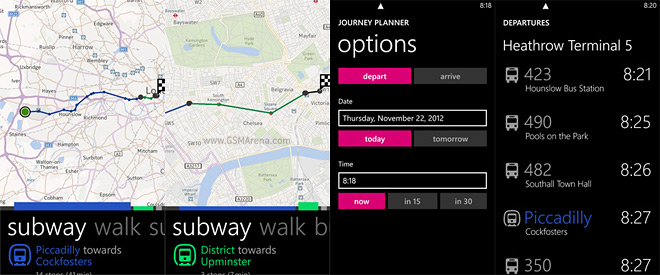 One of the changes is that the route is segmented and you can look at each segment more closely with a single tap or swipe.
Nokia Transport makes use of Windows Phone's Live Tiles and lets you pin favorite destinations to the Start screen (home, work, etc.). The app also lets you plan routes in advance (just enter the date and time you want to travel). You can choose how departure time is displayed – actual time of departure (e.g. 2:17p.m.) or time until departure (e.g. in 15 minutes).
Once all the planning is done, the app will offer walking directions to the station or stop you need to go to and after you arrive, directions to the exact location you want to visit. The list with your destination history will make it easy to find locations you've already visited (but you can delete entries if, for example, you didn't like the coffee at that place).
The Windows Phone 8 Transport app has been updated to version 3.0, check the Windows Phone Store to install the update. Nokia Beta Labs has beta versions of the app for Windows Phone 7-running Lumias and for Symbian phones.