Is it me or is Nokia's Beta Labs the most important part of the company? The Labs team constantly churns out Nokia-exclusive apps and features in a bid for your attention. The latest is a beta version of Nokia Chat for Windows Phone 8.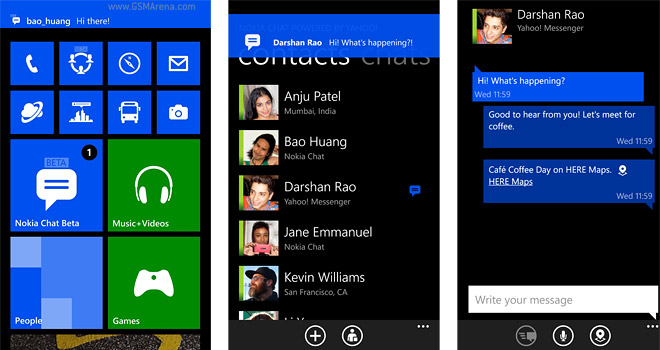 Chat is not a new service – it's been around Symbian and Series 40 (including Asha) for a while now. Now Windows Phone powered Lumia phones get to join in on the discussion, too.
Using Nokia Chat, you can connect with another person using Chat (regardless of their phone's OS) or Yahoo! Messenger, share a location, broadcast your location and get motivations and a new message counter on the app's Live Tile.
If your phone runs Windows Phone 8, you can get notifications on the lockscreen too. Also, using the speech to text capabilities you can say "Chat with John" and dictate the message.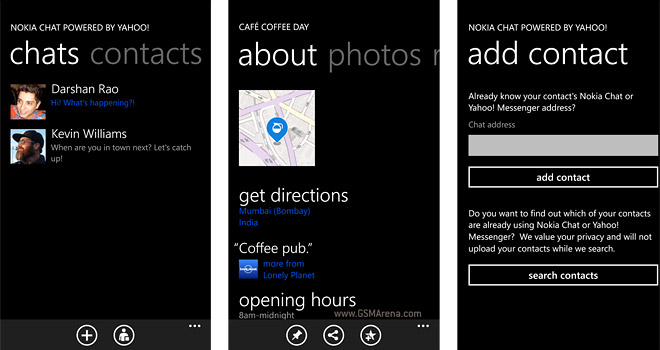 The app can scan you contact book and find the people who are using Nokia Chat or Yahoo! Messenger automatically.
The app is available as a beta and works in the following countries: United States, United Kingdom, Ireland, India, Canada, Australia, New Zealand, South Africa, and Nigeria. This is just the first beta release and Nokia will be expanding the availability to other countries as well.
You can download Nokia Chat from Nokia Beta Labs, it requires a free registration.
Chat sounds like a nice app, but it is Nokia-exclusive. Sure, Apple and BlackBerry have their own exclusive chat services, but with Skype for Windows Phone coming out of beta and WhatsApp already present, is there really room for an exclusive chat service on WP?