Nokia has been mentioning their Ovi Browser more often than not – and they've released a new beta version to try out. It has received some polish since we saw it last year.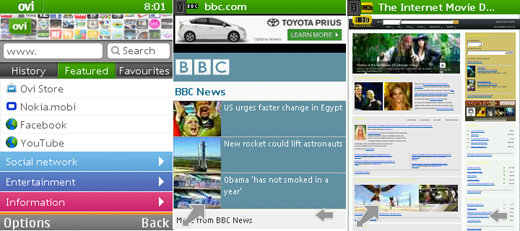 Sounds good, but is it good enough to beat the current king of feature phone browsing, Opera Mini?…
The latest beta of Ovi Browser comes with a new start page – it offers a collection of popular links right off the bat. India, Indonesia, Russia and China have localized start pages, while the rest of the world sees a general start page with popular links (Facebook, Twitter and other globally popular sites).
The menu bar at the bottom of the screen has been replaced with floating buttons, which use the screen real estate more efficiently.
Ovi Browser uses a proxy to reformat and compress the web page (up to 90%) before sending it to the device – basically the same trick that Opera Mini does. Still, Opera Mini 5 offers tabs and Speed Dial seems like the better start page, so Nokia still have a ways to go before they convince me to switch.
The Ovi Browser beta is available in 85 languages. You can get it from the Ovi Store but unfortunately, the Store seems to be having some issues right now since it says it's not available in my language (I tried changing it to anything from English to Hindi).