When Nokia announced they were selecting Windows Phone as their mobile operating system of choice, the Finns made it clear that they would create applications that made their handsets stand out. Nokia continues to deliver on that promise with the announcement of their Motion Monitor App for the Lumia 1520.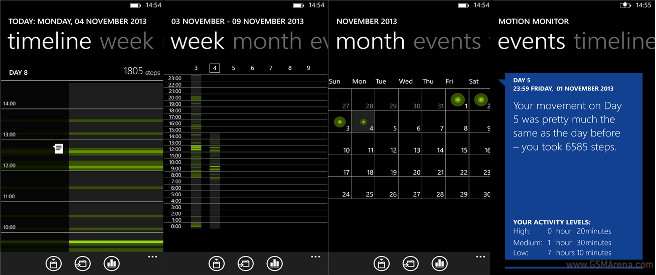 What's interesting about the app is that there is no need to manually launch it: Motion Monitor simply runs in the background, tracking your steps and movement. Since it is integrated into the 1520, live tile support is included, so you can see your physical activity results in real time right on your homescreen. The app also offers more detailed reports, which you can then break down in a variety of ways. Here's a quote from Nokia themselves:
"The Timeline is where your daily activity is recorded. Here you can see when you were moving, how intense the activity was and your total step count. The Events view gives you insights into your motion and summaries of your day, while the Week and Month views will help you discover if there are any patterns to your movement. The more you keep your phone with you, the better the data will be."
Nokia Motion Monitor is only available on the 1520 due to the phone's quad-core processor. The burden is assigned to one of the cores,which is used to run just the application, but at a low power so it doesn't drain your battery.
Expect the application to work on future quad core Lumia handsets as well. If you're sporting a 1520 and are interested in the app, you can download it from the source link below after a free registration.