What do you need for a home theater system? Usually you get a media player, a good sound system and a big TV or maybe a projector/screen combo. The Nokia N8 can substitute the media player as it can playback Full HD with true 5.1 channel Dolby Digital Plus over its HDMI output.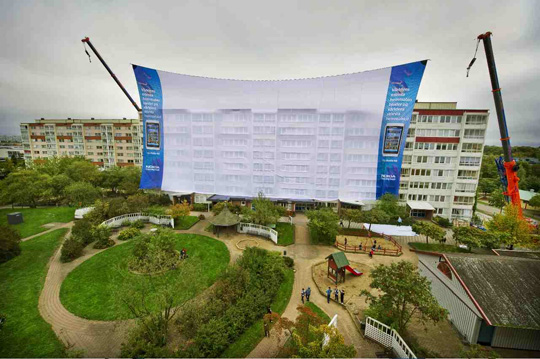 And don't worry if your screen seems too big for the N8 to handle, Nokia tested that setup on a 1,428 square meter screen with a total of four projectors…
The city of Rosengard, Sweden, was shortly home to the biggest cinema screen in the world. Hoisted in front of an apartment building and held up by two cranes, the screen measured 51 x 28 meters and four liquid cooled XLM HD30 projectors were used to project images onto it.
Each of the gigantic projectors weighs 180kg, gulps down 8,000 watts (6.5KW of which go to the xenon lamp) and puts out 2048 x 1,080 pixels resolution (a hair over Full HD). And there were four of them! Sure, the Nokia N8 can only put out only one 720p image rather than four 1080p images, but it's still very impressive (it's clearly a promo stunt though).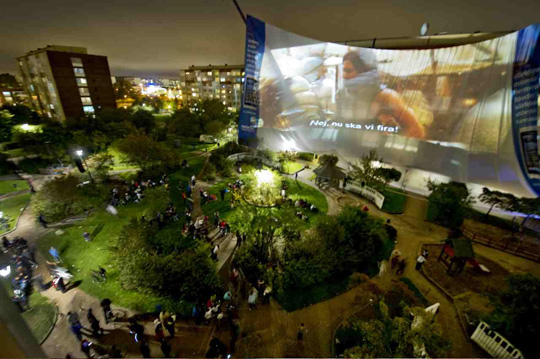 Around 1,500 people showed up to watch the show (which happened to be the Prince of Persia movie) with about another thousand who just watched from the comfort of their balcony.
The screen beat the previous record screen, which measured 73.1 x 18.3m, 1,338 square meters. For comparison, the world's largest IMAX screen (the LG IMAX theater in Sydney) measures 35.7 x 29.4 m (1,015 square meters).