Nokia is pretty proud of the multimedia capabilities of the upcoming Nokia N8 – they've shown off the video and still image capturing capabilities of the 12MP shooter, but now they're boasting about the multimedia playback prowess too…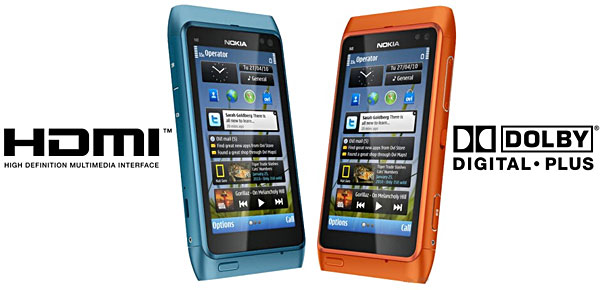 The Nokia N8 has an HDMI port, which allows it to output 720p video. The N8 supports 'native mode' rather than 'clone mode' – in other words, the phone display and the external display are treated as two different displays.
So, the playback controls stay on the phone's screen and the video is displayed on the TV screen. Clone mode copies the phone display image to the TV, which limits the resolution, but Nokia N8's support for native mode means the full 720p resolution of videos is sent to the TV.
That's not all of it however – the Nokia N8 is very good at audio too with its Dolby Digital Plus support. Nokia underlines that this isn't some cut down version (e.g. Dolby Mobile), this is the whole nine yards – 5.1 audio and all.
The native mode works just for videos and images right now, but Nokia are working to expand the support. They don't say what exactly but there's not much left.
I'm going to guess maybe games with the phone screen working as game controller with the TV displaying the game screen. Can you think of (or want) something else?