Yesterday's camera update to the Nokia N8 was off to a foul start and was quickly recalled. Today, we finally got the real deal from the Nokia beta labs and we're happy to report on how it changes the already great video camera of the phone. The update is exclusive to Anna-running N8s but it's an important one, so we tested it as well.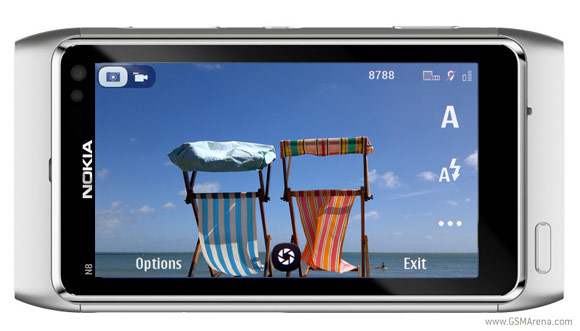 A few words on how we applied the camera update – it's not a part of Anna as it wasn't finished on time, so it's not updated over the usual channels (it's in experimental testing stages too).
So, you have to download a dedicated app from Nokia Beta Labs (you'd need a registration), then follow the installation instructions. Note that the update only applies to phones running Anna, so do that update first.
Camera – 30fps videos and continuous autofocus
The Nokia N8 camera update promises three things – a better interface for the camera, continuous auto-focus during video shooting and smooth 30fps video clips (instead of 24fps). The functionality of the still camera has been left untouched for the most part.
Damian Dining himself (the camera guru behind the N8) has taken the time to write a lengthy blog post on Nokia Conversations about this update. We'll try to be brief here but you can check his post for more details.
The user interface has been reworked and while it's not perfect, it's better than the old setup. A Settings shortcut has worked its way into the toolbar so it's easier to access and
selecting a new Scene mode now takes two taps less than before.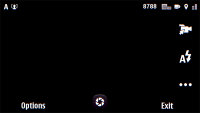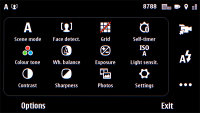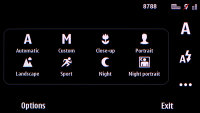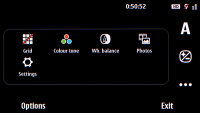 New camera interface – can you spot the difference?
The two major changes to video recording – frame rate was bumped up to 30fps (up from 24 fps) and continuous autofocus has been enabled.
Until now, the Nokia N8 used an Active Hyperfocal System for capturing videos, which meant that anything from about 60cm away from the camera is always in focus, but anything closer is out of focus.
The update adds a Close up mode to the video camera, which enables proper autofocus. This is a poor choice of a name, since it focuses on far-away objects too. The Automatic mode seems to be using the old hyperfocal system and doesn't change the focus as the video is being recorded.
Anyway, we enabled Close up mode and shot a few test videos. The camera allows you to focus before starting the recording, which is nice (the Galaxy S II, for example, would always autofocus in the first second of video, which is quite annoying).
In the first video you can see how the camera adjusts the focus – it reacts fairly quickly but finding the focus takes longer than we would have liked and it goes back and forth too visibly. Still, for a first outing it's not bad and we expect Nokia's team will optimize it before releasing it to all users.
Here's the video we promised:
Even though some argue that 24fps should be enough (it's the big movie framerate), Damian Dining explains that on electronic cameras increasing the framerate produces smoother videos.
We shot our usual street scene, which is good for judging framerate smoothness. Videos hold a very steady framerate of almost exactly 30fps and there are no duplicated frames. A great optimization job by Nokia.
And videos are indeed impressively smooth – we still noticed a few uneven spots but only after a fair amount of staring at the videos and those spots were fewer than on other phones. Again, well done, Nokia.
One area that needs work is the continuous autofocus – in a scene like this, with lots of movement, it triggered way too often and as you can see, this has a bad effect on the video. We shot a second video with the autofocus turned off and we think you'll agree it looks better.
We also have an untouched 720p@30fps (12s, 17.9MB) video sample for direct download.
There are a few other changes to the video camera. The ND filter used in the N8 has been disabled during filming – you can use the exposure compensation if you need to adjust the settings for a bright scene instead. Before the update, when the ND filter engaged it would cause a dropped frame and a "click" in the audio, which is why Nokia decided to disable it.
Another detail changed by the update is a special feature that cancels out the noise made by the focusing mechanism while doing continuous autofocus, so that it won't spoil the nice stereo sound that the N8 records.
The still camera gets improved red-eye reduction performance and a bug regarding Night Portrait mode shooting was squashed too.
Conclusion
The key selling point of the Nokia N8 was the camera – it has other excellent features but the 12MP Carl-Zeiss camera with large sensor and impressive 720p video capture is undeniably the phone's main draw.
And the Nokia team just made it better – there's still work to be done on it, but we like what we see so far. Nokia acknowledges that the camera interface isn't perfect so they're slowly polishing it.
But as imaging geeks, we were more interested in the changes to the recording process. The bump to 30fps has gone smoothly and there are no signs that it's overtaxing the hardware. And the videos look better for it.
The autofocus feature also enables you to shoot a different kind of videos. Nokia N8 users have probably all developed a habit of not shooting anything closer than 60-70cm – well, after you apply this update it will be time to break that habit.
While the Symbian Anna update doesn't bring any game-changing changes (it does offer some features that are practically must-haves), it also enables this update for the Nokia N8, which we think is well worth it. And while it's not FullHD, overall videos look better than what most 1080p-capable phones out there produce right now.