Nokia these days has become notorious for mocking its competitors, especially Samsung, at every opportunity they can find. The most recent example was when they parked a truck with a Lumia 1020 ad mocking the Samsung Galaxy S4 Zoom right behind it in the UK.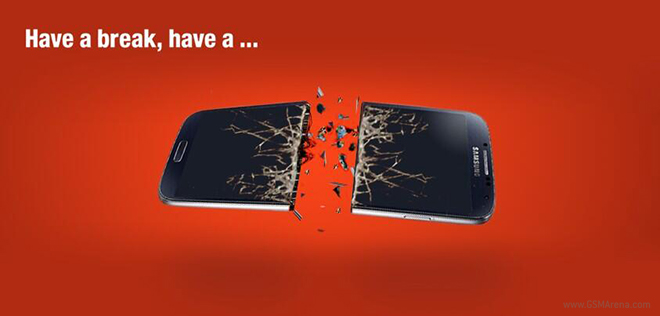 The latest stab comes in the form of a Twitter image uploaded by Nokia's German account. The image depicts a Samsung Galaxy S4 broken in half over a red background with a caption 'Have a break, have a…'. If it's not clear already, the image is supposed to mock the new Android 4.4 Kit Kat that was announced by Google a couple of days ago.
The choice of breaking a Samsung phone in particular is amusing since the Kit Kat announcement was made by Google but Nokia has often targeted Samsung in their ads so this is not a big surprise. However, Nokia's pot shots have become increasingly hostile and considering the complete lack of response from the other end now seem no more than petulant attention grabbing stunts to make themselves feel relevant.