The Nokia Lumia 720 came back for some more face time after our brief encounter at the MWC. The phone is similar to the Lumia 820 and it actually offers better specs in a few categories. For one, its screen can detect your fingers even through gloves. The curved Gorilla Glass 2 and ClearBlack tech make the 4.3" WVGA screen very good if not quite as nice as the 820's AMOLED display.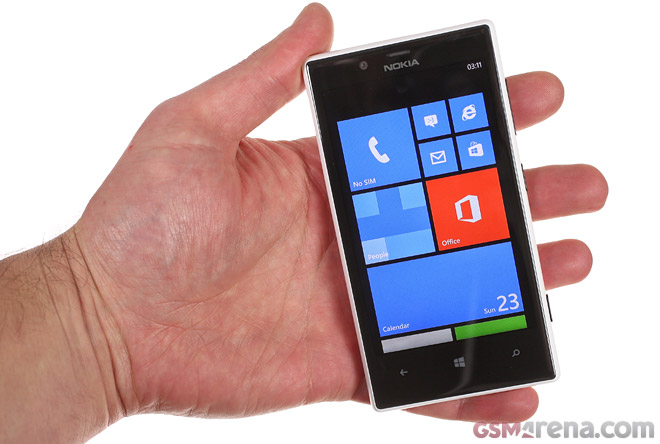 There's more too – the Lumia 720 is 9mm thick, the thinnest Lumia yet but it has a 2,000mAh battery, larger than the one in the the thicker and heavier 820. Also, the F/1.9 aperture on the camera is the brightest we've seen on a mobile phone yet.
There's a lot to like about the Nokia Lumia 720, including the expandable storage. Sure, its mid-range standing meant things like LTE had to be axed, but we can live without those. What's more damaging to the user experience is the 512MB of RAM, which make the phone incompatible with some apps and deprive it of 1080p video recording option.
Even so, the camera is very interesting. We already mentioned the F/1.9 aperture but this camera is Nokia's first to have 16:9 as its native aspect. Stills are snapped at 6.7MP resolution, about what you get from the 820 or 920 in 16:9 mode. The sensor is on the small side though, 1/3.6", so we'll see how it handles.
Nokia has a lot of exclusive software to differentiate its Lumias from other Windows Phone handsets (since they can't do it with a custom skin). There are Lenses like Smart Shoot (powered by the Nokia-owned Scalado), Cinemagraph, Panorama and more.
One thing we didn't quite like is that the Lumia 720 comes with Nokia HERE Drive. It gives you free offline voice-guided navigation, but only for one country (chosen by the first SIM card you put in, changing the SIM doesn't unlock another country). Drive+ is for the higher-end Lumias and has a navigation license for everywhere in the world Nokia has maps for.
The Lumia 720 can be Nokia's big hit – it's affordable enough to go mainstream and it has enough alluring features to draw people away from mid-range Androids. We're off to do our usual battery of tests and we'll report back with a full review when we're done.