The Nokia Lumia 710 just finished our battery test course and we guess you're all very curios to see how it did compared to the Lumia 800. The 710 has a smaller battery (1300mAh vs. 1450mAh) and a different screen, which will have a major effect on the results.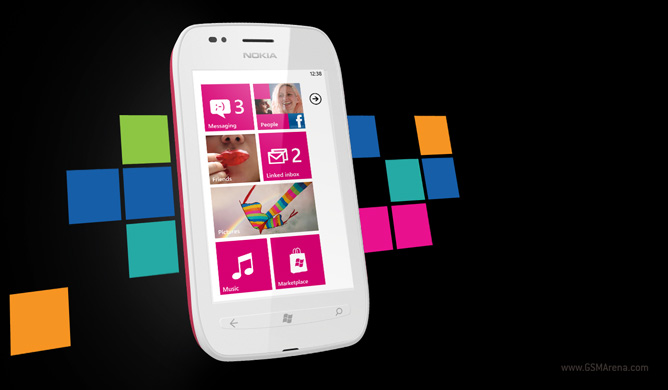 Then again, when we tested the 800 it still hadn't received it's battery fix update from Nokia, so things might get pretty close.
The Nokia Lumia 710 is advertised with a 3G talk time of 7 hours and 40 minutes but in our test it actually lasted 5 minutes over 9 hours. That's above average and it beats the 800 by about 40 minutes (and is miles ahead of the other WP7 phone we've tested, the HTC Radar and its 6 hours 53 minutes result).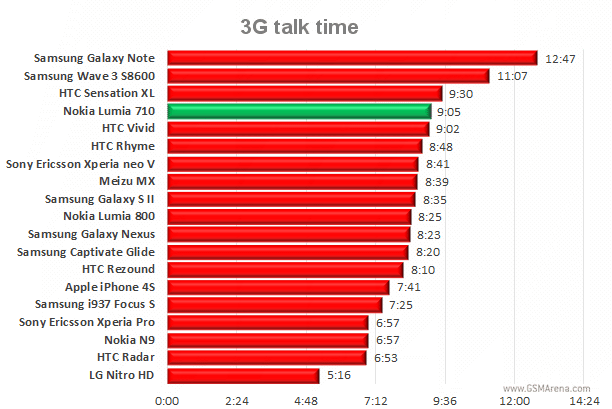 When it came to web browsing though, the results were far less impressive. The Nokia Lumia 710 kept going for 3 hours and 51 minutes, which is in the lower end of the spectrum of smartphones we've tested. The Lumia 800 won only by minutes though.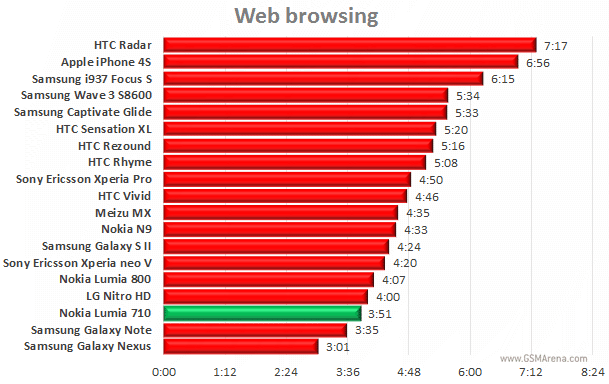 The video playback test was the 710′s last chance to redeem itself. Unfortunately, it went out even faster here. It only lasted 3 hours and 27 minutes before its battery hit 10% charge (which is when most smartphones stop playing). That's the worst we've seen yet.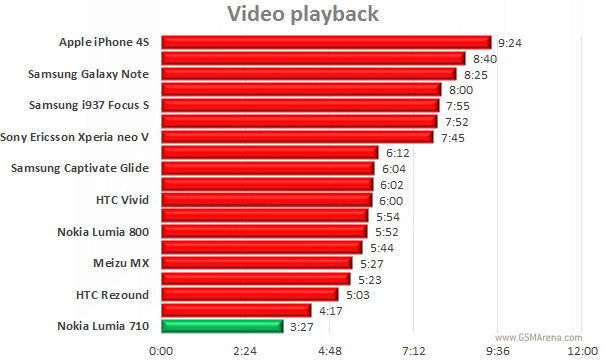 Of course, no one watches videos until the battery is depleted. Under a mixed use, we didn't expect the Nokia Lumia to last very long and it doesn't. It scored an endurance rating of 27 hours, which means you'll have to charge it every 27 hours if you do an hour each of browsing, video playback and 3G calls per day.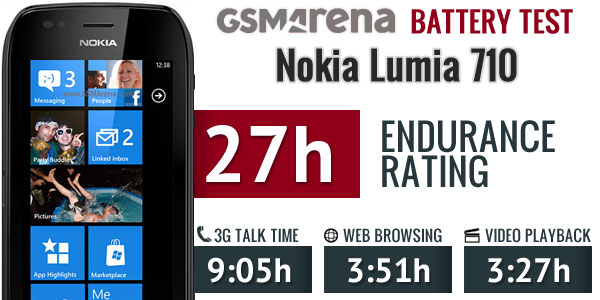 That's 8 hours short of what the Nokia Lumia 800 managed (mostly due to a better showing in the video playback test). In fact, it's demonstrated one of the lowest stamina scores we've seen from a smartphone yet.